Not a healthy dish be any means, but oh my, is this ever a wonderful flavored pasta!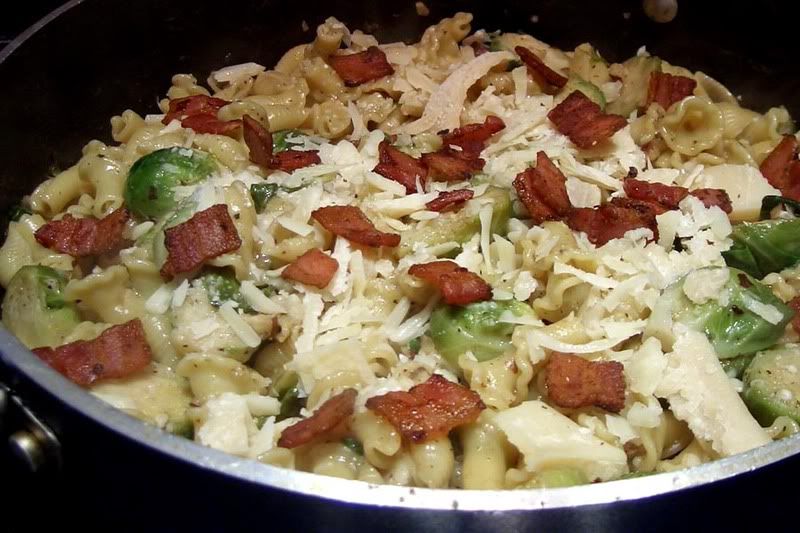 Orecchiette with Brussels Sprouts and Bacon
1/2 cup hazelnuts (2 ounces)
2 1/2 cups chicken stock or canned low-sodium broth
Salt
1 pound Brussels sprouts -- halved or quartered if large
3/4 pound orecchiette pasta
3 slices thick-cut bacon -- cut into 1-inch pieces
4 tablespoons unsalted butter
1 cup freshly grated Parmigiano-Reggiano cheese (3 ounces)
Freshly ground pepper
Preheat the oven to 375°. Spread the hazelnuts in a pie plate and toast for 8 minutes, or until fragrant. Let the nuts cool, then coarsely chop them.
In a small saucepan, boil the chicken stock until reduced to 3/4 cup, about 15 minutes; keep warm.
Bring a large pot of salted water to a boil. Add the Brussels sprouts, cover and cook until crisp-tender, about 5 minutes. Using a slotted spoon, remove the Brussels sprouts and pat them dry. Return the water to a boil. Add the orecchiette and cook until al dente, 12 to 15 minutes; drain.
Meanwhile, in a large, deep skillet, cook the bacon over moderately high heat until crisp, about 6 minutes. Drain the bacon on paper towels. Add the butter to the skillet and cook over moderately high heat until browned and nutty, about 3 minutes. Add the Brussels sprouts and hazelnuts and cook until heated through, about 2 minutes. Add the orecchiette along with the reduced chicken stock and simmer, stirring, until the sauce is slightly absorbed, about 2 minutes.
Stir in 1/2 cup of the Parmigiano cheese, season with salt and pepper and transfer to a large serving bowl. Garnish with the bacon and the remaining 1/2 cup of cheese and serve.
The smokiness of the bacon and the earthiness of the nuts in this pasta dish suggest a medium-bodied, Italian-style Sangiovese, such as the 1999 Flora Springs or the 1999 Altamura.
Description:
"This hearty pasta dish is truly perfect in autumn, when Brussels sprouts are at their peak of flavor"
----
And leftovers will be Jacques Pepin's Pasta with fried eggs and cheese - then it's back to healthier food.
Retired and having fun writing cookbooks, tasting wine and sharing recipes with all my friends.
www.achefsjourney.com