Well I am making this wonderful sauerbraten and went to the store today to get cabbage and gingersnaps. I got home and started prepping for our early dinner (is that supper?) and went to crush the gingersnaps. Opened the box and found this!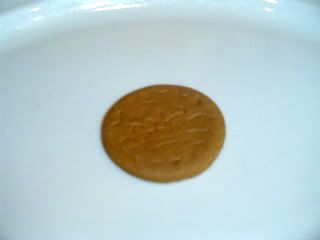 I hope you can see it. Essentially it is a graham cracker that is pressed to look like a gingersnap! Each cooking looks exactly the same! They were the only gingersnaps in the store made by Nabisco. Even the box said "Made with Real Ginger and Molasses" The darn thing doesn't even LOOK like a gingersnap!
Chaps my hide! I mean what the @#%*!
Here is a picture of the box in case any of you decide to buy them.
"Time you enjoy wasting is not wasted time."
Laura