Roy didn't want to cart this pkg. all the way to Oregon, so I had my choice of opening it early or waiting until I got home. AND, since I knew what it was and wanted to be able to show the kids pictures of it, I opened it last night.
Last summer I saw a picture in my Sister's studio that I just loved - it was of a garden area that looked so much like what we had done in our courtyard, I couldn't believe it. And she had never seen the courtyard before she painted this picture, that's what was so surprising. Anyway, Roy got it for me for Christmas. I just love it -
We even have two large planters similar to the large one.
and this one - when my 43 year old son was seven, our beloved neighbor (who died years too early!) took this picture of him doing a wheelie on his bike and printed it into a poster. Well, I've carried this poor thing around rolled up, pushed in boxes, etc. since then from house to house always thinking I would get it framed for him one day. One day finally came, and I had it done this year. It's such a wonderful picture of him and now I don't know if I want to give it to him yet or not. I just had it matted, Roy will be making a frame for it.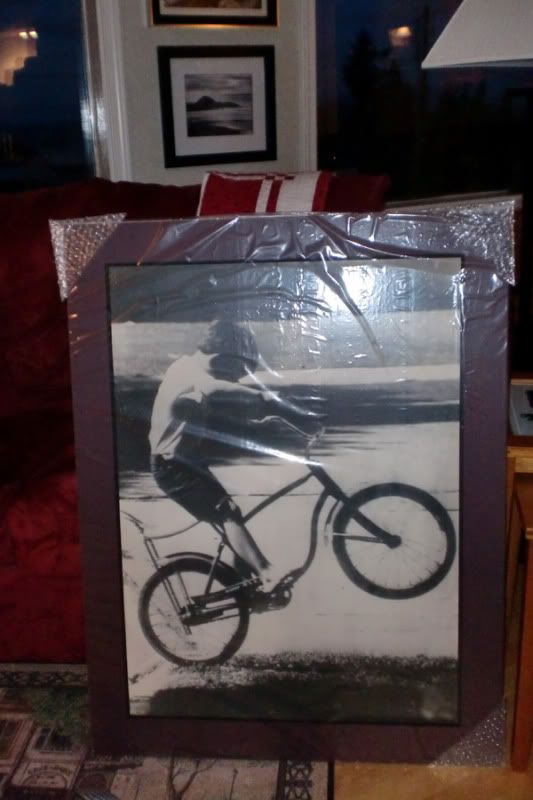 I'm finally getting into the Christmas spririt I think - at least I'm sure getting sentimental....
Retired and having fun writing cookbooks, tasting wine and sharing recipes with all my friends.
www.achefsjourney.com