Cubangirl posted the recipe for Cuban bread in the midst of another thread (Lab's Lechon Asado) - it will definitely get lost there, so hope you don't mind that I'm posting again here.
Made it yesterday and what a great summer method for making bread - by the time the oven is up to temp, the bread is darn near done. And great taste to boot. Thanks for sharing this recipe.
YUM!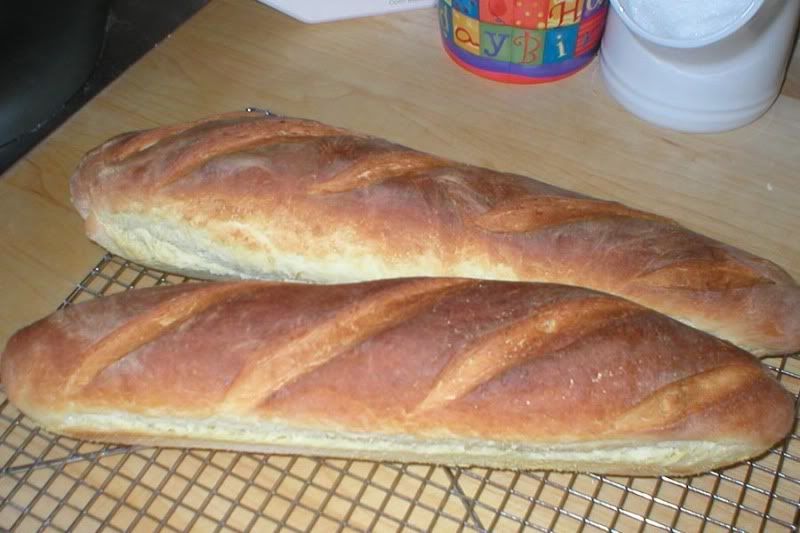 Here you go, hope you like it as much as I do.
From my LIVING COOKBOOK files.
CUBAN BREAD JAMES BEARD VERSION *****
Yield: 2 Loaves
DO NOT PREHEAT OVEN
Oven Temperature: 400°F
Bread is done when internal temp is about 200°F and it makes a hollow sound when tapped.
1 Package Yeast (1/4 Ounce)
2 cups Lukewarm water
1 ¼ TBS. salt
1 TBS. sugar
6 to 7 cups Sifted all-purpose flour
Water for brushing tops
Cornmeal for cookie sheet
1. Dissolve the yeast in the water and add the salt, and sugar, stirring thoroughly.
2. Add the flour, one cup at a time, beating it in with a wooden spoon, or use the dough hook on an electric mixer at low speed (KA start on 2, work up to 3). Add enough flour to make fairly stiff dough. (After sifting 6 cups should be plenty, machine kneading time about 7-9 minutes, know dough is ready when leaves sides of bowl.)
3. When the dough is thoroughly mixed, shape it into a ball, place in a greased bowl (I use olive oil) and grease the top. Cover with a dry clean towel, (A plastic 4 qt. Container works well, flatten dough measure amount form bottom to where it starts and mark with erasable marker or tape, then measure same amount and mark or tape again for doubling guide.) and let stand in a warm place (80° to 85°F) until doubled in bulk. (About 30 minutes if put in microwave in which 2 cups of water have been boiled for 6 minutes, leave cup in corner of microwave, turned off)
4. Turn the dough out onto a lightly floured board and shape with lightly floured hand into two long French-style loaves or round Italian-style loaves. Arrange on a baking sheet heavily sprinkled with cornmeal and allow rising five minutes.
5. Slash the tops of the loaves in two or three places with a knife or scissors. Brush the loaves with water (I just use clean wet hands and pat the dough) and place them in a cold oven. Set the oven control at hot (400°F) and place a pan of boiling water on the bottom of the oven. Bake the loaves until they are crusty and done, about 40 to 45 minutes. (Can tell bread is done when internal temp is about 200°F and it makes a hollow sound when tapped)
Preparation Time: 15 minutes
Cooking Time: 1 hour and 25 minutes
Inactive Time: 35 minutes
Recipe Type: Bread, Cuban Food
Author: Me
Source: adapted from James Beard in The New York Times Cookbook
Retired and having fun writing cookbooks, tasting wine and sharing recipes with all my friends.
www.achefsjourney.com