I'm repeating posting the recipe for this because it is such an easy and oh so tasty dinner!!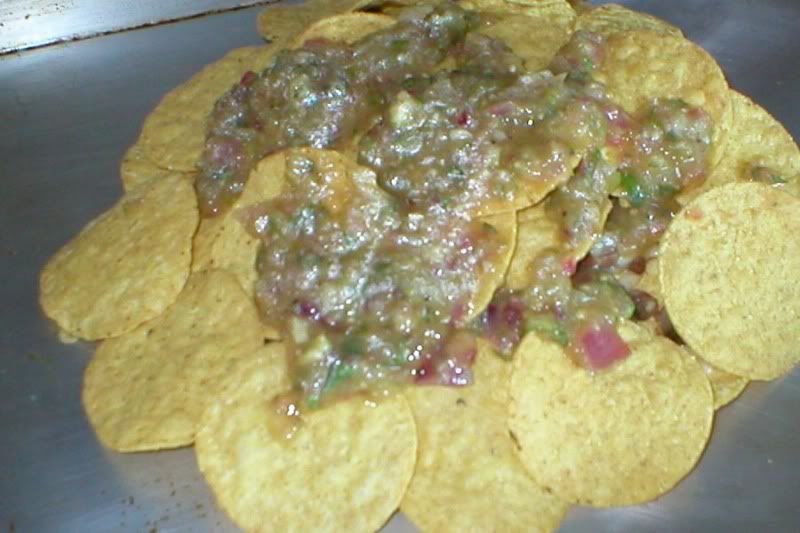 Beef and Fontina Tostaditos
Servings 2
4 medium tomatillos -- husked and finely chopped
2 tablespoons finely chopped red onion
2 tablespoons minced cilantro
1 teaspoon hot sauce
4 ounces thickly sliced roast beef -- finely chopped
1/2 cup shredded Fontina cheese -- shredded (2 ounces)
48 mini round corn tortilla chips
Preheat the oven to 350°. In a small bowl, combine the tomatillos, red onion, cilantro and 1/2 teaspoon of the hot sauce.
In a medium bowl, combine the roast beef with the Fontina and the remaining 1/2 teaspoon of hot sauce. Arrange half of the tortilla chips on a large rimmed baking sheet. Spoon the roast beef filling onto the tortilla chips and top with the remaining 24 chips.
Bake the tostaditos for 5 to 7 minutes, or until the filling is hot and bubbling. Transfer to a platter. Season the tomatillo relish with salt, spoon a little on top of each tostadito and serve immediately.
Note: what I'd do differently next time - half the filling and layer 1/2 on the first layer of chips, then the rest of the filling on top of the 2nd layer of chips.
I didn't make the salsa they mentioned in the recipe, instead I made this one and it's such a tasty Tomatilla Salsa Verde
Grilled-Tomatillo Salsa Verde
1 pound tomatillos -- husked and halved
2 jalapeños -- halved and seeded
1 small onion -- sliced 1/2 inch thick
2 garlic cloves -- unpeeled
1/4 cup vegetable oil
1/4 cup cilantro leaves
2 tablespoons fresh lime juice
Salt and freshly ground pepper
Preheat a grill pan. In a bowl, toss the tomatillos, jalapeños, onion and garlic with 2 tablespoons of the oil.
Grill over high heat, turning occasionally, until the vegetables are slightly softened and charred in spots, 5 minutes. Let cool slightly, then transfer to a food processor. Pulse until coarsely chopped.
Add the cilantro, lime juice and the remaining 2 tablespoons of oil and pulse until chunky. Season with salt and pepper and serve warm or at room temperature.
Make Ahead
The salsa can be refrigerated for up to 3 days.
Serve With: Fish, shellfish, chicken, steak. or the Quick Chicken-and-Cheese Tamales
See, it needs more filling on the top chips - but, man is this a tasty light dinner.
---
WELL, duh, a perfect example of why it's a good idea to carefully read a recipe before making....
this is how the tostaditos were to be presented - not the mess (but a delicious mess it was
) I made of it...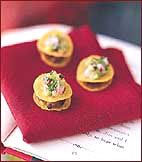 Retired and having fun writing cookbooks, tasting wine and sharing recipes with all my friends.
www.achefsjourney.com