So, where is the old(er) Sage???????? Shall we wait for him?
O.K., I waited 15 minutes...
(signed axious??)
Oh my, what a Saturday Brunch we had!!
Bill's Baltimore Crab Fluffs
Fried Razor Clam Strips
Oven Baked French Fries with Caviar sauce
Champagne….two bottles in fact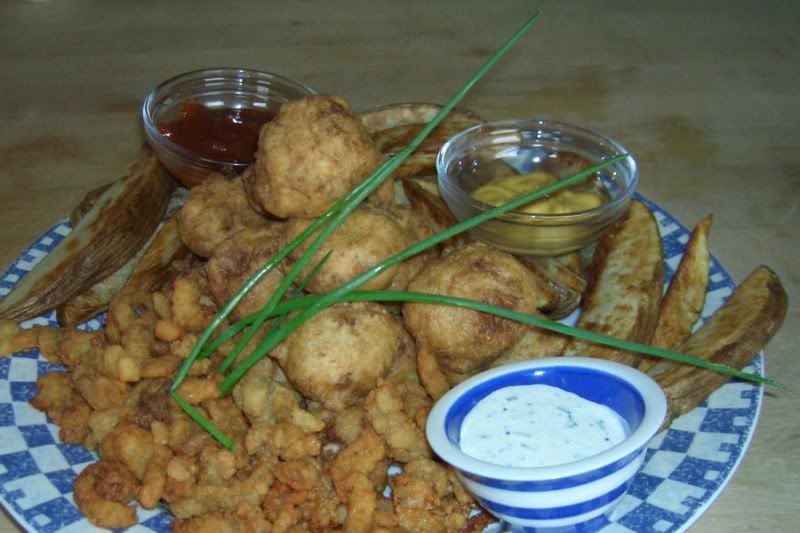 The Crab Fluffs were very tasty, but I think I would make my favorite crab cake (like Aunt Mary's from Tom Douglas' crab cake book) and use the wonderful batter that was called for. Overall 2 of us gave an 8, one gave a 7 – with the general consensus being higher score with a little Tabasco. Good choice Bill!!
I can't get to the Chicken until later and I probably won't make the carrot cake – especially after this weekends pig out!!
--------
The Caviar Fries were very good – I saw them made somewhere and here's the recipe if anyone is interested –
Caviar Fries
Mix together:
1/2 of a 7.5 container crème Fraiche
1 T. chives
1 tsp. lemon zest
2 oz. of the best caviar you can afford.
Parboil potato wedges (potatoes cut into 8 nice wedges) in stock (or water) for 1 minute (I wouldn't do this again, I'd go raw potatoes into the oven).
Oven to 400F. After boiling potato wedges for 1 min.; drain and toss with just a little salt (the caviar will be salty also) Bake wedges until crisp tender and nicely browned – turning often.
While fries are baking, gently mix caviar into crème Fraiche and put in small serving bowl. Top with hopped chives and serve on the side with the fries.
Leftover sauce will be good with baked potatoes.
Retired and having fun writing cookbooks, tasting wine and sharing recipes with all my friends.
www.achefsjourney.com