This will be a progressive post. I hope you guys don't mind if I share, but this is such a special project for me. My father was diagnosed with Alzheimer's Disease when my baby, now 19, was still in the womb. Several years later, when it was obvious he was declining quickly, William, my brother and I decided it was time to learn his secrets for a perfect BBQ. So that Thanksgiving, we gathered at my parent's house to do one last BIG cook! We cooked innumerable pounds of Boston Butts for BBQ, a gallon of his special sauce, and gallons of his special Brunswick Stew. I soooo wish I had pictures, but the memory of that day and night are permanently imprinted in my mind.
This weekend, we are making Dad's Brunswick Stew in mass quantities to share with friends, to put in the freezer, and enjoy on a COLD winter day. It's been years, and I can't wait. So here is the first of the pics I will share over the course of the next 24 hours of the process to make a LARGE quantity of this wonderful stew. This is how my daddy made this stew for special clients when he catered. I even have his pot for the process....just wish I had that "fat daddy" cooker he used that would hold two hogs or dozens of Butts and had four gas burners large enough to hold 15 gallon pots on the fenders. (This is going to be dicey to get the meat cooked tonight on my little stove.) It's gonna be a long night, but the wine is good...LOL!
Here's the cast of characters: (NOTE: Wrong BBQ sauce, a third of the amount of pig's feet, and WAY too much corn....JEAN check your PM box!)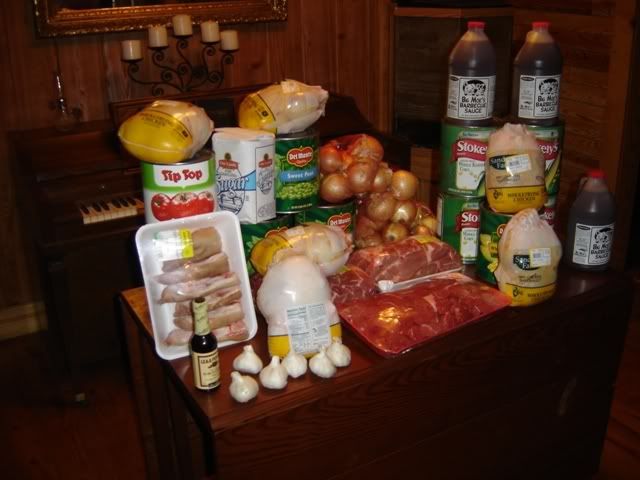 I know, Dad's pot looks kinda rough, but it has served years of pleasure on a plate.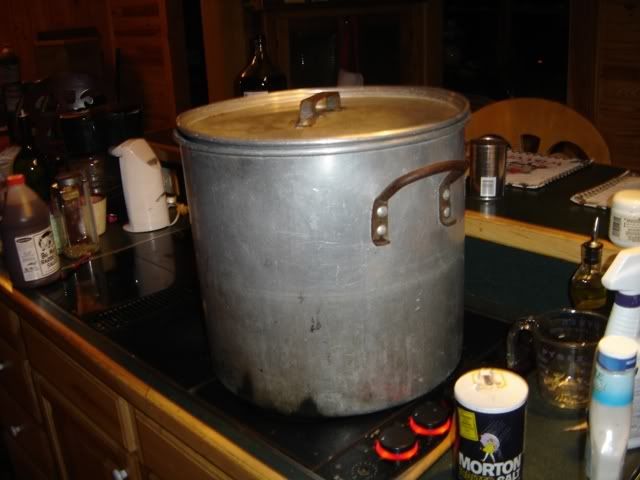 I so wish I had gotten a pic of the meat and onions in the pot before they added water...OH WELL!
Daphne
Keep your mind wide open.