Oh my, these are little goodies!! Recipe says 2 points (it's a W.W. recipe) per cookie - but, I got 10 more cookies from the batch than recipe said. And they are delicious with a cup of coffee!
Peanut Butter Cookies with Chocolate Centers
2 sprays cooking spray
1 cup sugar -- granulated
1/4 cup unsalted butter -- at room temperature
1/2 cup chunky peanut butter
2 large egg(s)
1/2 tsp vanilla extract
1/2 tsp table salt
1/2 tsp baking soda
1 cup whole-grain wheat flour
1 oz Nestle Semi-Sweet Chocolate Chunks -- or other brand (about 40 pieces)
Preheat oven to 375ºF. Coat 2 cookie sheets with cooking spray or cover with parchment paper.
Place sugar, butter and peanut butter in a large bowl; beat with an electric mixer until light and fluffy. Add eggs and vanilla; blend well with mixer.
Add salt, baking soda and flour to sugar mixture; beat until completely incorporated.
Drop batter by heaping teaspoons onto prepared cookie sheets and flatten with the back of a wooden spoon. Make sure to leave about 2 inches between each cookie. (Bake in several batches to prevent over-crowding if necessary.) Place a chocolate chunk in center of each cookie
Bake cookies until edges brown, about 10 to 11 minutes. Remove from oven and let cool on cookie sheet for 1 or 2 minutes; remove cookies to a wire rack and cool completely. Yields 1 cookie per serving.
POINTS® Value: 2
Servings: 30
Preparation Time: 12 min
Cooking Time: 11 min
Description:
"2 points"
NOTES : I got 40 nice size cookies from this batch. Used Guittard's Cppuccino Chips instead of the chocolate.
---
Tought I'd better get a picture before they are all gone...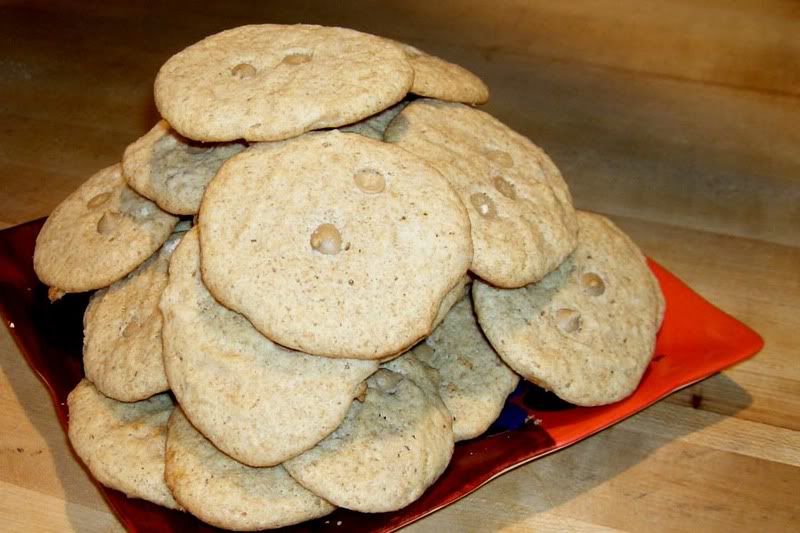 Retired and having fun writing cookbooks, tasting wine and sharing recipes with all my friends.
www.achefsjourney.com