It's a Norwegian bread, looks just like a tortilla except for the shape, my Grandma's were usually like triangles of dough she cooked on the wood stove.
My grandma made lefse for the family for all my life and probably years before that! I don't know how she kept up with us when the whole family was around her huge round kitchen table, soft butter and the sugar dish in front of us just waiting as the lefse came off her old wood stove. I know we must have eaten faster than she could cook them. This recipe is how she dictated her recipe to my sister, Joan andd me, many years ago.
I made these again the other day (while I was cooking potatoes for Lorraine's Tourtiere, I thot why not go for it) - I also wanted to 'test' the way the recipe was written. I disovered the most amazing thing
- all my life I thot Grandma cooked lefse in triangles, but now I realize what she did - there were always so many of us panting for more lefse, after she cooked these circles of dough, she would portion them out in pie shapes, therefore feeding 4 or 6 of us with one lefse!!!!! It only took me 67 years to figure that one out!
she'd be so proud!
Mom Shelledy's Lefse
5 large white potatoes (the old & mushy type)
2 cups sweet cream -- half & half, or milk & water (but cream is the best!)
1 tsp. salt
3 T. butter
Flour for rolling the lefse out (I made 1/2 this recipe and needed ~ 1 3/4 cups flour kneaded into the dough to make it workable)
1. Boil potatoes and mash until very fine.
2. Add cream, salt, and butter; beat until light.
3. Let cool (fairly)
4. Add flour until workable.
5. Roll out and bake on top of griddle (or wood burning stove)
More traditional instructions -
Follow above through #4 - the dough will be fairly dry, but stay together to be rolled out.
Wrap in plastic wrap and chill for 1 hour.
Roll the dough out into ropes and cut into 2" chunks.
Roll chunks into thin circles (or long ovals, or whatever) like tortillas.
Heat a griddle to about 400 F.
Place a circle of lefse on the griddle and cook until brown spots appear o the heated surface.
Flip and cook the same way on the other side.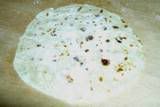 Lay cooked lefse on cooling rack as you cook the rest.
To serve: Some folks like just butter, my family always smeared the softened butter over and topped with a sprinkling of granulated sugar. Fold twice or roll into a cylinder. Eat and enjoy!!
Oh my, it's amazing the memories that come while making these - I'll have to post a picture of my Grandma, she is just the epitome of what a Grandma should always be.
Retired and having fun writing cookbooks, tasting wine and sharing recipes with all my friends.
www.achefsjourney.com