03-08-2017, 06:55 PM
I can't believe I have been sitting on this recipe from Cuisine at Home for 15 years!! It is a wonderful pork dish and I almost licked the plate!! Issue #33 – June 2002. Pan Roasted Pork Chops with Bourbon Sauce served with a twice-baked potato. None of the three wines we had are worth mentioning. I had a huge 1-inch thick bone-in chop but I made the amount of the sauce for 4 chops and I'm so glad I did because we have leftovers from this puppy and now I have more sauce, also.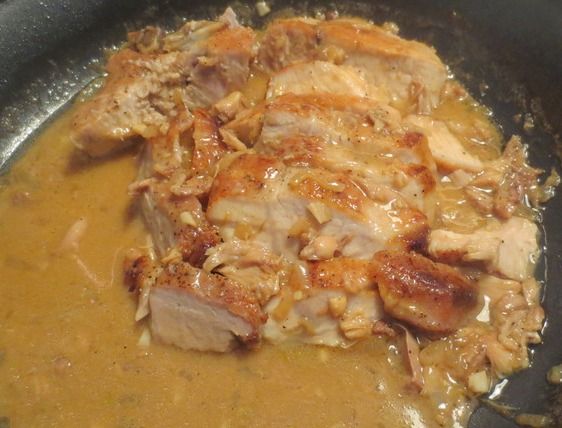 Here's the recipe since the issue is so old -
 PORK - PAN ROASTED PORK CHOPS WITH BOURBON SAUCE
SEASON AND FLOUR: 4 1"-thick brined rib chops (used 1 1-inch thick beautiful bone-in chop)
----
BROWN IN: 2 T. olive oil
-----
REMOVE CHOPS; SAUTE:
1 Tbs garlic, chopped
1 Tbs shallot, chopped
-----
DEGLAZE WITH:
11/2 cups chicken broth
1/3 cup bourbon
1/4 cup brown sugar
1 Tbs apple cider vinegar
-----
ADD AND REDUCE:
2 Tbs heavy cream (I used canned milk - since I keep little containers in the freezer and never seem to have cream)
Reserved pork chops
1. Preheat oven to 425°.
2. Season chops with pepper. Dust lightly with flour.
3. Brown one side in olive oil over medium-high heat. Turn, cover, and roast in oven for
4. about 10 minutes.
5. Remove chops to a warm platter. Saute garlic and shallot in 1 T. drippings over
6. medium-high heat until soft.
7. Deglaze pan with bourbon and broth. Add sugar and vinegar; reduce by half.
8. Add cream and pork chops to pan and cook for 2 minutes on each side until sauce
9. is thick.
Servings: 4
Tips
Makes 1 cup sauce.
Editor's Note: Be careful when deglazing with liquor. Higherproof
alcohols, like bourbon, can cause a large flame. This can be prevented by diluting bourbon with broth. If you're a showman or like a milder sauce, add the alcohol away from the flame and ignite with a long match. Thisburns off the alcohol.
Source: From: Cuisine at home No. 33 (June 2002) - Page 20
Retired and having fun writing cookbooks, tasting wine and sharing recipes with all my friends.
www.achefsjourney.com