I certainly had a fun day yesterday -
One-Pan Mexican Quinoa
Found on cooklikeachampionblog.com - Author's note: Like the roasted vegetable quinoa bowls I posted recently, this can be eaten hot or cold/at room temperature and will taste fantastic no matter which way you serve it. It makes a fantastic grab and go lunch, but I could also see it working really well as a healthier option at a potluck or other type of party. 4-6 servings.
2 tsp olive oil
2 cloves garlic, minced
3-4 jalapeños, seeded and finely chopped
1 cup uncooked quinoa, rinsed well and drained
1 ¼ cups vegetable broth
1 (15 ounce) can black beans, drained and rinsed
1 (14.5 oz) can diced tomatoes, with juices
1 cup frozen corn (or kernels from 2 ears of corn)
½ tsp kosher salt
⅓ cup chopped fresh cilantro
1 quarter of a lime, juiced
To finish:
Shredded cheese, sour cream, green onions, etc.
1. Heat the oil in a medium saucepan over medium-high heat. Add the garlic and jalapeños and sauté for about 1 minute, until fragrant. Stir in the quinoa, broth, beans, tomatoes, corn and salt. Bring to a boil, then reduce heat to a simmer.
2. Cover and let cook for 20-25 minutes, until the liquid is fully absorbed. Remove from heat, fluff with a fork and stir in the cilantro and lime juice. Top as desired.
I topped with Queso Fresco instead of cheddar
------------------
Roasted Garlic Shrimp, French Fries Waffles with Papaya Mustard
I won't post the garlic shrimp recipe – it's been posted on here so often over the years. But, this was a fun 'Bistro' style dinner. The mustard is what I found looking for something to do with the papaya scraps.
Papaya Mustard
Epuicuriious, Jan. 2009 – Jean-Georges Vongerichten
This fabulous dipping sauce, which combines mustard powder for heat and Dijon-style mustard for complexity, is also wonderful over tuna, crab, or scallops. I like it on hot dogs too.
2 tablespoons mustard powder, preferably Coleman's
1/4 cup Dijon mustard
2 tablespoons rice vinegar or plum wine vinegar
1/2 cup honey, plus more as needed
1 1/2 pounds papaya, peeled, seeded, and cut into 1/2-inch chunks
Salt
2 tablespoons fresh lime juice, or to taste
----------
2 tablespoons chopped fresh cilantro leaves
Lime wedges for serving
Whisk together the mustards and vinegar in a small bowl until the mustard powder is dissolved; let sit while you proceed.
Put the honey in a small heavy saucepan over medium-high heat. Cook, stirring constantly with a rubber spatula, until the honey bubbles, thickens, and darkens slightly, about 7 minutes. (My note: this took only 4 minutes – anymore and it would have had a burnt taste.)
Turn the heat to medium-low and add the papaya. Cook, stirring occasionally, until the papaya water evaporates and the mixture becomes mushy, about 15 minutes.
Remove from the heat and immediately stir in the mustard mixture. Season to taste with salt and lime juice and set aside.
Garnish your dish with the cilantro, with the papaya mustard and lime wedges on the side.
a Chef's Journey dish from Epuicuriious, Jan. 2009 – Jean-Georges Vongerichten
--------
As soon as I saw the following recipe in a newsletter yesterday, Roy ran down the hill and picked up an order of fries – these/this is so good!!
LEFTOVER FRENCH FRIES: - French Fries Waffles
from Serious Eats newsletter, 3/11/14
The fries go in cold and get compressed into the waffle compartments where they begin by shedding some of their fat, then continue by frying in that fat.
They take a little longer than you'd expect—10 to 15 minutes or so—but you'll know they're ready when every nook and cranny is fully crisped.
1 1/2 lbs leftover cold French fries, or thawed frozen french fries
Kosher salt
Mayonnaise or ketchup for serving
1. Preheat a Belgian waffle iron according to manufacturer instructions.
2. Add half of French fries and press down firmly to compress (If using a two-well waffle iron, fill both sides).
3. Cook until completely crisp and golden brown, 10 to 15 minutes (if using a single well waffle iron, hold finished waffle on a rack set in a rimmed baking sheet in a 200°F oven while you cook the second waffle).
4. Season with salt and serve with mayonnaise or ketchup immediately.
Author Notes
Makes 2 waffles serving 4 to 6 - Active time: 2 minutes - Total time: 25 minutes
a Chef's Journey's dish from Serious Eats newsletter, 3/11/14
--------------------------------
Lastly had to work the sourdough and finally found the right baking pans for sandwich loaf size bread.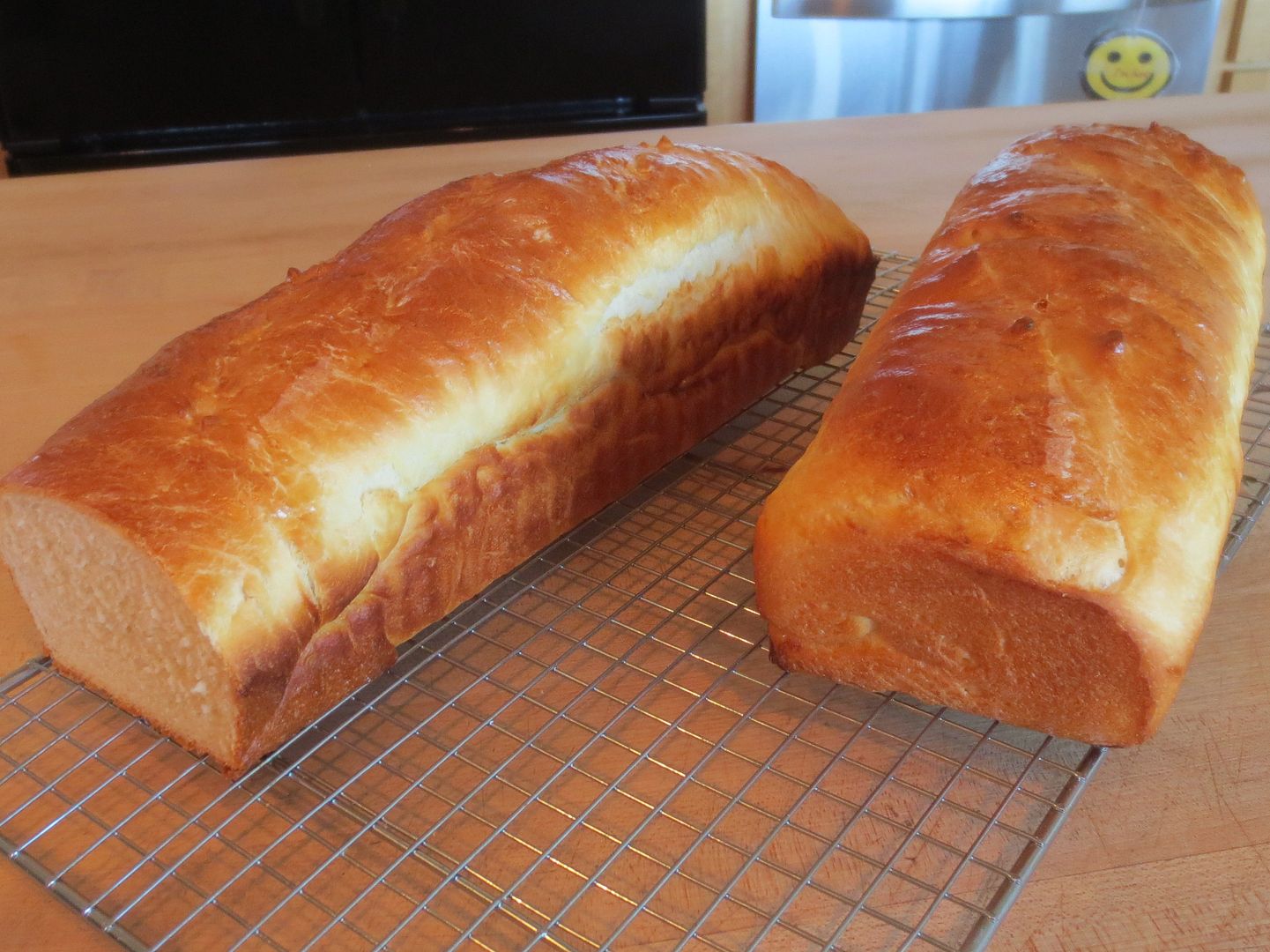 So, that was my day and we have lots of leftovers!
Retired and having fun writing cookbooks, tasting wine and sharing recipes with all my friends.
www.achefsjourney.com