How about an appetizer dinner review to give us some new (hopefully) ideas for the holidays.
We'll treat this as a Birthday Review dinner, EXCEPT – as we make them, let's post the results so the rest of us will know how good or bad they are. Let's have a date time limit of Nov. 30th for posting results – BUT DON'T WAIT UNTIL THEN.
Parmesan-Stuffed Dates Wrapped with Prosciutto
You can assemble these a day in advance, but keep them covered in the refrigerator. Bake just before you're ready to serve them.
Makes 36 dates - Total time: 20 minutes
Source: Issue #96 Dec. 2012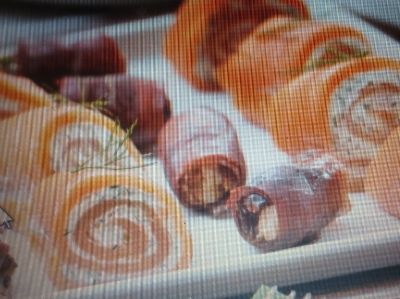 36 pitted dates
2 oz. Parmigiano-Reggiano, cut into 36 small chunks
18 pieces thinly sliced prosciutto, cut in half lengthwise (6 oz.)
Preheat oven to 375°.
Cut a slit into dates and stuff each with a small chunk of Parmigiano-Reggiano.
Wrap each date with a half slice of prosciutto and arrange on a baking sheet. Bake dates
until prosciutto is crisp, about 10 minutes; serve while hot.
-----------
JAPANESE MEATBALLS with teriyaki sauce
After the meatballs have been sautéed, they can be chilled for up to a day before grilling.
Makes 20 meatballs, 3/4 cup sauce - Total time: 45 minutes
Source: Issue #54, Aug. 2007
2/3 cup low-sodium soy sauce
1/2 cup dry sherry
1/2 cup sugar
1/4 cup water
2 T. fresh ginger, minced
1 1/2 lbs. ground chicken or pork
1/4 cup scallions, minced
2 t. fresh ginger, minced
1 t. sesame oil
1 egg white, lightly beaten
Salt
1/2 t. ground black pepper
2 T. vegetable oil, divided
Line a baking sheet with parchment and coat lightly with nonstick spray.
Boil soy sauce, sherry, sugar, water, and 2 T. ginger in a saucepan until thickened
and reduced to 3/4 cup,13–15 minutes. Set sauce aside.
Combine chicken or pork, scallions, 2 t. ginger, sesame oil, egg white, salt, and pepper in a bowl. Shape mixture into 1 1/2 inches and place on the prepared baking sheet.
Heat 1 T. oil in a nonstick skillet over medium. Add half the meatballs and sauté until lightly browned on all sides, about 5 minutes; transfer to a paper towel-lined plate. Sauté remaining meatballs in 1 T. oil. When cool, thread 2 meatballs onto each of 10 skewers.
Preheat grill to medium-high. Grill skewers for about 2 minutes, turning occasionally. Dip each skewer in soy sauce mixture, allowing excess to drip off, then return skewers to the grill and cook 2–3 minutes longer. Dip one more time, then grill until deep brown in color. Dip skewers into sauce again before serving.
C@H
notes:
1. Sauté the meatballs just until they're firm enough to hold their shape when
threaded on skewers.
2. Repeatedly dipping the meatballs in sauce creates a thick, shiny glaze
---------
CURRIED PORK SATAYS
(MAKES 16–20 SATAYS) --WORK TIME: 45 MINUTES - COOK TIME: 8–10 MINUTES
Source: Aug. 2001, issue #28
FOR THE YELLOW CURRY PASTE—BLEND IN FOOD PROCESSOR:
1/4 cup shallots (about 2 large), peeled, chopped
2 T. fresh ginger, peeled, chopped
2 T. fresh lemon juice
2 T. shredded, sweetened coconut
1 T. jalapeño, seeded, minced
1 T. low-sodium soy sauce
1 T. brown sugar
1 T. curry powder
1 T. lemon zest, minced (1 lemon)
Salt to taste
DRIZZLE IN:
3 T. vegetable oil
MARINATE IN CURRY PASTE:
1 lb. boneless center cut pork loin chops, sliced into !/2"-thick strips
THREAD PORK ONTO SKEWERS AND GRILL;
SERVE SATAYS WITH:
Bibb lettuce leaves
Sweet Garlic Sauce and
Sesame-Cilantro Dry Dip, Page 7
SWEET GARLIC SAUCE
(MAKES ABOUT #/4 CUP)
WORK TIME: 10 MINUTES - COOK TIME: 30–35 MINUTES
COMBINE IN SAUCEPAN AND SIMMER UNTIL REDUCED BY HALF:
3/4 cup water
1/2 cup rice vinegar
1/2 cup brown sugar
3 T. garlic (5 cloves), minced
1/2 t. crushed red pepper flakes or chili garlic paste
Salt to taste
SESAME CILANTRO DRY DIP (MAKES !/4 CUP)
WORK TIME: 10 MINUTES
TOAST IN A SAUTE PAN AND COOL:
!/4 cup white sesame seeds
STIR INTO COOLED SESAME SEEDS:
2 T. coarsely chopped fresh cilantro leaves
Soak twenty 12" bamboo skewers.
For curry paste, blend all ingredients except oil in food processor fitted with steel blade until minced; scrape sides of work bowl. With machine running, drizzle in oil. Transfer paste to a bowl
Remove fat and connective tissue (silverskin) from chops. Slice into 1/2" thick strips, add to curry paste and marinate 1 hour. Meanwhile, make garlic sauce and toast sesame seed for dry dip (add cilantro just before serving)
Preheat grill to high; lightly brush grates with vegetable oil. To thread pork on skewers, accordion-fold a strip and push skewer through; pull it down the skewer to flatten (don't go too far down – you need room or a handle).
Place Satay on grill so skewers hang off the edge, cover and cook 4-5 min. Flip satays, cover and cook 3-4 min. or until cooked through and lightly charred Serve satays on lettuce leaves with garlic sauce and dry dip
C@H
notes:
SKEWER SOAKING
A tall vase is great for soaking the skewers, see left. Since they float, place them in the vase point-down—the blunt ends don't need soaking since they hang off the edge of the grill. To keep them submerged, stuff a ball of foil down into the opening. And if you don't have a vase tall enough, a baking pan filled withwater works just fine.
Soak skewers for at least an hour before using. They can be left in the water a while, but may start to get moldy if submerged longer than a day.
---------
Dessert –
Potato Chip Cookies
For the most potato chip flavor in these cookies, be sure not to crush the chips
too finely. And feel free to try a ridged potato chip if that's your preference.
Makes two dozen cookies - Total time: 45 minutes
Source: #91 Feb. 2012
WHISK:
2 cups all-purpose flour
1 cup finely-crushed plain potato chips
1 tsp. baking powder
1/2 tsp. table salt
CREAM:
3/4 cup shortening
1/2 cup each granulated sugar and packed brown sugar
ADD:
2 eggs
1 tsp. vanilla extract
FOLD IN:
2 cups coarsely-crushed plain potato chips
1/2 cup chopped toasted pecans or mini chocolate chips (optional)
Preheat oven to 350°. Line baking sheets with parchment paper. Whisk together flour, 1 cup potato chips, baking powder, and salt in a bowl; set aside.
Cream shortening, granulated sugar, and brown sugar in a large bowl with a mixer on medium speed, 3–5 minutes. Add eggs and vanilla; beat to combine. Mix in
flour mixture to combine.
Fold in 2 cups potato chips and pecans to distribute.
Scoop dough with a #30 scoop (2 Tbsp.) onto prepared baking sheets and bake cookies until edges are set, 12–14 minutes.
Let cookies cool on baking sheets 2 minutes; transfer to a rack to cool completely.
Retired and having fun writing cookbooks, tasting wine and sharing recipes with all my friends.
www.achefsjourney.com