Wow! This was sooooooo good! It was full of flavor. The meatballs were very moist. Even my daughter could not resist a couple of eensy-weensy bites of the meatballs. My hubby and son loved, loved, loved it. This sauce was well-seasoned and fresh tasting. I wouldn't change a thing! This is a keeper.
I made the meatballs exactly as directed and it made 28 of them. Man oh man this was wonderful.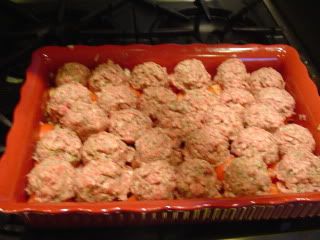 My only regret is that I didn't get an after photo for you all! The meatballs were well-browned and beautiful. I am drooling just thinking about last night's dinner...
"Time you enjoy wasting is not wasted time."
Laura