Here is the other recipe I was telling you about. One thing I always do is prebake my crust. Which is different in this recipe, but I do it anyway.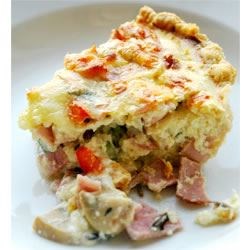 Ham and Wild Rice Quiche
3/4 cup water
1/4 cup uncooked wild rice
1 (9 inch) unbaked pie crust
1 cup cubed cooked ham
1/3 cup finely chopped red bell pepper
1/4 cup thinly sliced green onion tops
1 (4 ounce) can sliced mushrooms, drained
3 eggs, beaten
1 cup sour cream
1 tablespoon Dijon mustard
1/2 teaspoon salt
1/8 teaspoon black pepper
2 cups shredded Swiss cheese
Directions
1.In a small pot, bring the water and wild rice to a boil. Cover, reduce heat to low, and simmer 45 minutes.
2.Preheat oven to 425 degrees F (220 degrees C). Bake the pie crust 10 minutes, or until golden brown. Reduce heat to 400 degrees F (200 degrees C).
3.In a bowl, mix the cooked rice, ham, red bell pepper, green onion tops, and mushrooms. In a separate bowl, mix the eggs, sour cream, mustard, salt, and pepper.
4.Sprinkle the bottom of the pie crust with 1 cup Swiss cheese. Spread the rice, ham, and vegetable mixture over the cheese, and cover with the egg mixture. Top with remaining Swiss cheese.
5.Bake 30 minutes in the preheated oven, or until a knife inserted in the center comes out clean. Let stand 10 minutes before serving.
*** More wild rice tips: Cook up a large batch, let it cool on a cookie sheet, chill it, then freeze it in a Gallon baggie. It's easy to take some and add it to soup, or other white rice for a pilaf. You can also add it bread and make Wild Rice Bread.

POSSIBILITIES ARE ENDLESS!!
Another wild rice classic:
CLASSIC CREAMY WILD RICE SOUP
1/3 c. Onion, finely chopped
6 Tbsp. Butter
1/2 c. Flour
3 c. Chicken broth
2 c. Cooked Wild Rice
1/2 c. Carrots, grated
1 c. The Turkey Store® Breast Strips, cooked and chopped
3 Tbsp. Almonds, slivered
1/2 tsp. Salt
1 c. Half & Half
2 Tbsp. Sherry, dry wine
1.In large saucepan, saute onion in butter.
2.Add flour, stirring constantly until bubbly; gradually stir in broth.
3.Add Wild Rice, carrots, turkey, almonds, and salt; simmer 5 minutes.
4.Add half & half, and sherry; heat through.
Or try this...
PUMPKIN WILD RICE SOUP
2 c. Wild Rice, cooked
2 Tbsp. Butter or Margarine
1 c. Onion, chopped
4 c. Chicken Broth
16 oz. Pumpkin (can)
1/8 tsp. White Pepper
1 c. Heavy Cream
garnish, Chives or Parsley
1. Cook wild rice according to package directions.
2. Melt butter in large saucepan.
3. Add onion and cook until light brown.
4. Stir in broth and pumpkin.
5. Cook 10-15 minutes, stirring occasionally.
6. Add wild rice and pepper, cook.
Prep time: 10 minutes
Servings: 8
"Time you enjoy wasting is not wasted time."
Laura