I thought it would be nice to go through some of our kitchen products we have and review them. It doesn't matter if they are old or new, cost a lot of money or was acquired at a garage sale. One of my prize possessions is a vegetable peeler I bought at the supermarket that I cannot live without!
It was my coffe maker that went kaput that prompted this post. Several years ago my husband bought a coffee maker at Williams-Sonoma.
This is the one:
Well he bought it for me because he thought I would like it. And I did, sort of. On the upside, it had solid construction, was very attractive and came with an extra pot and extra warming burner for entertaining. On the downside it cost $300 and it was really nothing special. It was made like an office coffee maker which meant it didn't have 'sneak a cup' feature. I can't tell you how many guests grabbed the pot while coffee was brewing expecting the flow to stop when the pot was removed only to have coffee running all over the counter. And early on the clock on the front was rendered useless from drips of water and steam. But the worst thing for me is that it didn't make the coffee better than our old $24.99 coffee maker. This machine was a colossal waste of money.
So when this machine went kaput, I was secretly over-joyed. I got tired of waking up to 'old' and sometimes cold coffee. So I purchased the airpot from Sam's Club for $35. I love this airpot! It worked great and I just loved having fresh coffee on the counter all the time.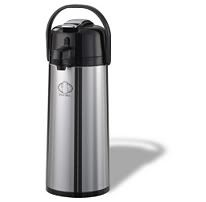 Now I had to reassess our 'coffee needs'. My hubby makes coffee at 4:30 a.m. on his way out the door. This schedule started three years ago. I don't usually get up until 5:30 or 6:00 and while I do love having fresh coffee, I usually only have a cup, maybe two, and sometimes (not often) none. So I decided to go with something that I could make one cup at a time.
So this time I decided to go with an espresso maker. I had a Braun one years ago and loved it. I love the flavor the coffe has when made this way. I always have been checking for a coffee/espresso maker and there just aren't many, or they are VERY expensive.
Well I purchased this little number from Target:
Pros: Decent price, makes a pretty decent espresso, easy to use, large water reservoir so you don't always have to fill up to make a cup.
Cons: Water is not hot enough right away so I have to run a cycle without coffe to get it hot enough, frother lacks some power.
Really the jury is still out on this one. I will have to use it a while to figure out if I really like it or not.
One of my most favorite things is my vegetable peeler. I got it at our local Cub store for $4 this summer.
I will never go back to my old peeler again. It fits my hand so well, it's really sharp. The only drawback, if you can call it that is there is no sharp tip for digging out eyes. But how often do I do that anyway? Not enough for me to give up this peeler.
My kitchen timer also took a powder. I had been eyeing the triple timers that are out and about. I decided to purchase the very economical OXO timer despite some of the not so good ratings I found at Amazon.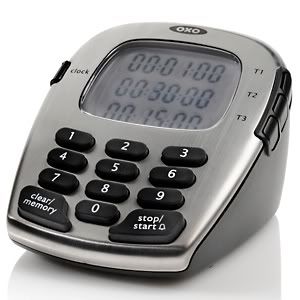 A month ago I would have told you I loved it. But I would have also said the alarm is very quite, it's a little complicated to set, and it doesn't beep long enough after going off. So if you are out of the room, you may miss the alarm entirely. But I got used to the quite beep, and the got used to setting it. I thought it was fine. UNTIL it started freaking out on me. It will clear itself of all timing for unknown reasons, it will emit a high pitched long series of beeps and just black out! Now I really dislike this thing. I have to set a backup timer for my timer!
The best buy of the summer is the
Sauce Master
that my husband purchased for me at Fleet Farm for $49.95.
I love this product! I was able to turn all my tomatoes into puree lickety-split! Not coring, seeding or peeling! I just quartered them and sent them through. Out the other end came a beautiful crimson flow of pristine puree. Just ready to be made into sauce for canning.
Another item that came into the house was a pepper mill. I purchased it at Amazon.com for around $29.
Some of you may know I have been searching for just the right pepper mill for my hubby for about a year. Maybe more. I have researched so many mills and really knew exactly what I wanted. However, it was too expensive. So I decided to find something economical and functional. Besides, how complicated is a pepper mill? This mill is fine, it does the job. I love it's 18" stature and it looks quite impressive on the kitchen counter. The only drawback is that it only has one grind. Kind of disappointing since the ad said it was fully adjustable. It's not. It works fine and for the price, I will keep it.