Mustard Sauce
Tonight I tried the Chicken Cordon Bleu Casserole with Creamy Mustard Sauce recipe from the [Email]C@H[/Email] October Issue - Issue #83. It was a BIG hit! It was really not that hard to make, and it only dirties one pan, a couple of cutting boards, and the ramekins….A very easy clean-up.
Changes:
-Instead of using the bread bowls, I lined ramekins with egg roll wrappers and pre-baked at 400 degrees for about 7-10 minutes, until light brown.
-I didn't have quite enough stone ground mustard, so I had to sub half with Dijon. I'll be using all stone ground next time.
-I had half and half on hand, so didn't get cream. I think this would account for my sauce not getting as thick as I would have expected.
Recommendations:
-I would like to try it with pie crust, but I would roll it out a little to make a thinner crust. I would also try it with one pre-baked and one not. I'm not sure which way would work best….probably the pre-baked.
-Try it with cream next time, just for kicks.
-My sauté pan was too small. I will use my large pan next time. The chicken didn't brown at all. Did it make a difference with the sauce thickening? I don't know. I'll leave that answer to the experts or my next attempt.
The mustard in the sauce sends this dish over the top. William was drinking it and gave that part of the dish a 10. Not having made this in a bread bowl, I shouldn't say, but I can't see it making this taste any better. And for presentation, I let you decide. We gave this dish a 9 overall. We will definitely have this one again. The flavors were excellent!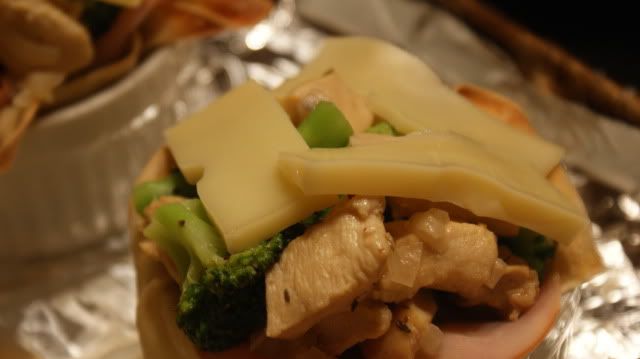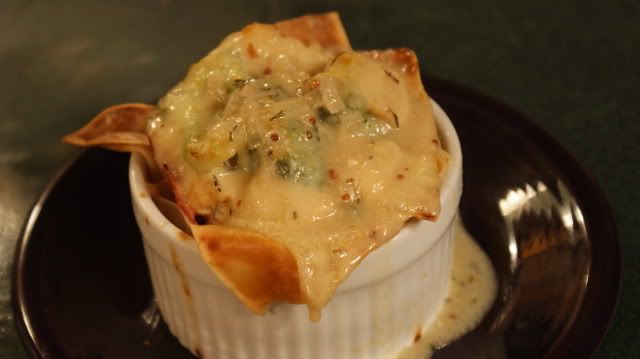 Daphne
Keep your mind wide open.