For my good good friend, Gourmet_Mom aka Daphne..
During Chinese new year here in Singapore, everyone makes a bee line queue at many such shops that sells these BBQ pork. It costs S$40/US$28.00 per kilogram. This year, I ordered a carton(about 5kg) from the frozen meat supplier and decided to make my own to serve family and friends.
It proved to be a hit with everyone.
The local name of this snack is called Bak Kwa which means Dried Pork or Preserved Pork.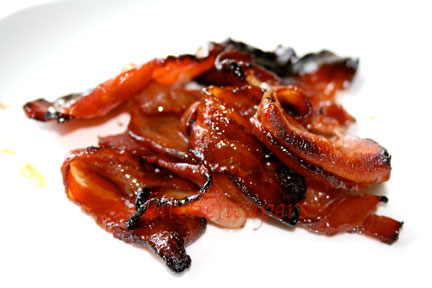 Honeyed Bak Kwa/BBQ Pork
Recipe by Gina Choong
Ingredients
1 kg streaky bacon
5 tbsp Thai Fish sauce
1.5 tbsp 5 spiced powder
150g honey
100g Golden syrup
Method
1. Remove chilled bacon from packing, wash under tap water to remove any liquid(usually from packaging)
2. Pat dry with paper towels.
3. Line it on a large plastic container and pour fish sauce and 5 spiced powder over it.
4. Mix honey and golden syrup together.
5. Pour over the bacon.
6. Cover the container and leave it in the chiller(fridge) to marinate for at least 2 days.
7. Roast in preheated oven 220C for 10 to 15 minutes or until it turns golden brown. Brush the pork with remaining marinate sauce.
8. Drain excess oil by placing the BBQ pork on greaseproof paper.
9. Store in containers lined with waxed paper or greaseproof paper.
Notes
Make sure you cool it before storing.
Can keep for 2 weeks or more.