Once I start posting, I can't stop. So I don't know if its a good thing or bad.
Salmon is something that everyone loves. So 'user-friendly' to be exact. But I always wonder what people do to the belly of the fish. I did this last year..just a try out. Now its our family's favourite dish to have.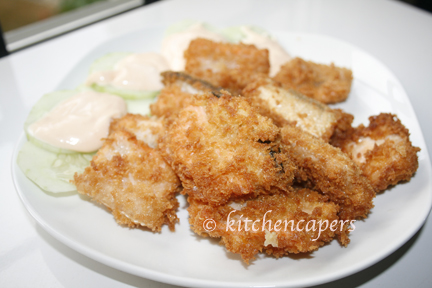 Ingredients
200g salmon belly
pinch of sea salt
1 egg, beaten lightly
100g bread crumbs(Japanese type)
Method
1. Cut the salmon belly into thick chunks.
2. Marinate with sea salt and egg
3. Coat with bread crumbs generously on both sides.
4. Deep fry in hot oil for 5 mins till golden brown
5. Drain on kitchen towels
6. Serve hot with mayo or salad cream or your favourite ketchup.
People Learn from one another, just as iron sharpens iron. Proverbs 27:17 New Internationl Version, Bible

****
tasteoftime.blogspot.com