This was really good! And especially with slices of watermelon.
I used Jalapenos instead of Serranos because we had picked up these big beauties at one of the farmers market and I wanted to use them up.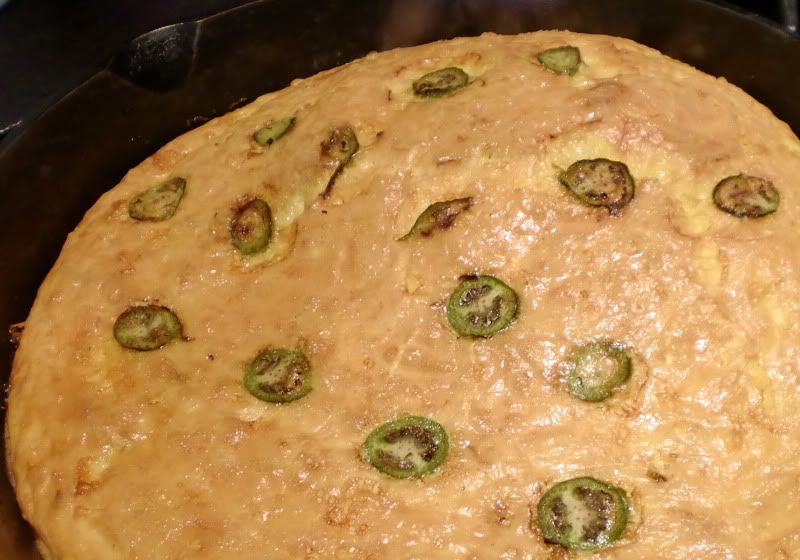 Jalapeno Pie – The Border Cookbook
Makes one 12" skillet (cast iron), enough for 6 to 8 main-dish servings.
2 T. butter
1 1/2 cups chopped onions
2 garlic cloves, minced
4 to 6 fresh jalapenos, halved vertically, veins removed and sliced in very thin half-moon rings
1 tsp. ground dried mild red chile, preferably ancho or New Mexican
1 1/4 tsps. cumin seeds, toasted and ground
1 tsp. ground black pepper
1/2 tsp. salt, or more to taste
8 eggs
8 oz. mild cheddar cheese, grated
---
Additional rings or slices of jalapenos, for garnish (optional)
Preheat oven to 350°F.
In a heavy skillet, warm the butter over medium heat. Add the onions and garlic, cooking until softened. Add the jalapenos, red chile, cumin, black pepper, and salt and cook for 5 minutes more. Remove the skillet from the heat, patting the jalapenos down in an even layer.
In a medium bowl, whisk the eggs together until foamy and stir the cheese into the eggs. Pour the eggs and cheese over the jalapeno mixture.
Scatter the optional jalapeno slices over the pie if you wish. Bake for 25 to 30 minutes, or until lightly puffed and golden. Cool for 10-15 min.
Slice the pie in wedges and serve Leftover can be reheated or served cold.
---
I'll certainly make this again!
Retired and having fun writing cookbooks, tasting wine and sharing recipes with all my friends.
www.achefsjourney.com