I love this recipe but have had trouble making it work out with the whole '8-layer' thing and the actual layering amounts etc.
I will make notes myself in the recipe and will definitely make fewer layers. Perhaps just one less. This is what I would recommend for myself for the future. Double the amount of sauces in the layers. Parboil pasta for 2 minutes, not one. Forget the boursin cheese and just use cream cheese (adjust seasonings to compensate) - Boursin is too expensive and once it is melted, you are really just adding the richness and flavor.
If you buy the presliced fresh mozzarella, you are going to use 1 1/2 lbs. That's just how it works out when layering.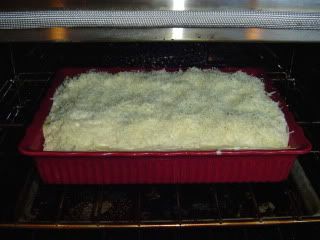 More of this review to come later on...
"Time you enjoy wasting is not wasted time."
Laura