Oh these are good little goodies!!! Will do this again.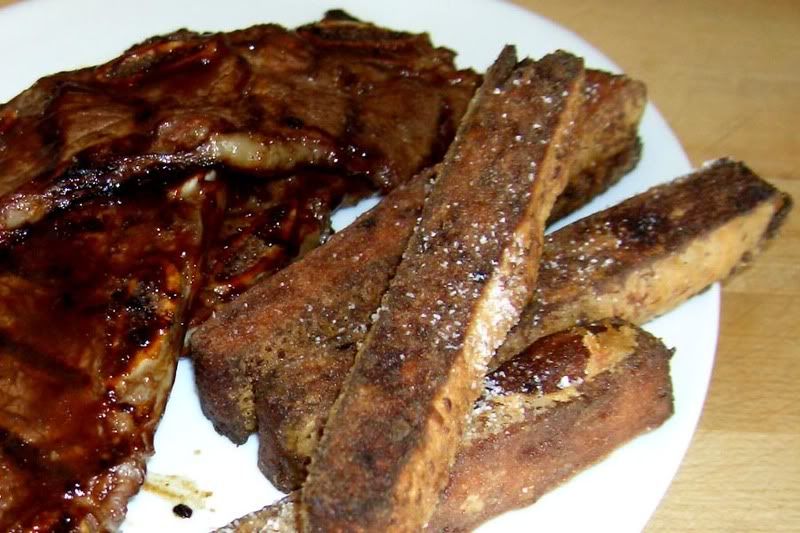 Chickpea Fries
NOTES : Park Kitchen . Portland, OR
At this excellent little restaurant, Scott Dolich (a Food & Wine Magazine Best New Chef 2004) serves these crisp-outside-tender-inside jumbo fries with homemade pumpkin ketchup, but they're also wonderful on their own. He spikes the fries with sambal oelek, a bright red Southeast Asian chile sauce available at Asian markets.
2 tablespoons extra-virgin olive oil
1 small onion -- minced
4 garlic cloves -- minced
1 teaspoon minced fresh rosemary
5 1/2 teaspoons sambal oelek
4 cups water
2 cups chickpea flour
Kosher salt
Vegetable oil -- for frying
All-purpose flour -- for dusting
Lightly oil a 9-by-13-inch baking pan. Heat the olive oil in a large saucepan. Add the onion, garlic and rosemary and cook over moderate heat until the onion is very tender, 6 minutes. Stir in the sambal oelek. Add the water and bring to a boil. Slowly whisk in the chickpea flour until smooth. Reduce the heat to low and whisk until very thick, about 6 minutes. Season with salt. Spread evenly in the oiled baking pan and press plastic wrap on the surface. Refrigerate until firm, at least 4 hours.
In a large pot, heat 2 inches of oil to 350°. Cut the chickpea mixture into 4-by-3/4-inch fries and pat dry with paper towels. Lightly dust the fries with flour. Fry in batches until golden, 8 minutes. Drain on paper towels, season with salt and serve.
S(Internet Address):
"http://www.foodandwine.com/recipes/chickpea-fries-cocktails-2007"
- - - - - - - - - - - - - - - - - - -
For those who don't like real spicy, you might want to cut back on the sambal oelek the first time and then go from there. I used the entire amount called for and they are
spicy!
But, with the sweetness of the ketchup, really good spicy! I didn't make pumpkin ketchup, but I'm thinking of looking for a recipe and doing that.
Today, I'm going to try 'oven frying' them and see if that works....
Retired and having fun writing cookbooks, tasting wine and sharing recipes with all my friends.
www.achefsjourney.com