---
P.Butter Cookies w/Cappuccino Chips - cjs - 10-08-2007

Oh my, these are little goodies!! Recipe says 2 points (it's a W.W. recipe) per cookie - but, I got 10 more cookies from the batch than recipe said. And they are delicious with a cup of coffee!



Peanut Butter Cookies with Chocolate Centers

2 sprays cooking spray
1 cup sugar -- granulated
1/4 cup unsalted butter -- at room temperature
1/2 cup chunky peanut butter
2 large egg(s)
1/2 tsp vanilla extract
1/2 tsp table salt
1/2 tsp baking soda
1 cup whole-grain wheat flour
1 oz Nestle Semi-Sweet Chocolate Chunks -- or other brand (about 40 pieces)

Preheat oven to 375ºF. Coat 2 cookie sheets with cooking spray or cover with parchment paper.

Place sugar, butter and peanut butter in a large bowl; beat with an electric mixer until light and fluffy. Add eggs and vanilla; blend well with mixer.

Add salt, baking soda and flour to sugar mixture; beat until completely incorporated.

Drop batter by heaping teaspoons onto prepared cookie sheets and flatten with the back of a wooden spoon. Make sure to leave about 2 inches between each cookie. (Bake in several batches to prevent over-crowding if necessary.) Place a chocolate chunk in center of each cookie
Bake cookies until edges brown, about 10 to 11 minutes. Remove from oven and let cool on cookie sheet for 1 or 2 minutes; remove cookies to a wire rack and cool completely. Yields 1 cookie per serving.

POINTS® Value: 2
Servings: 30
Preparation Time: 12 min
Cooking Time: 11 min

Description:
"2 points"

NOTES : I got 40 nice size cookies from this batch. Used Guittard's Cppuccino Chips instead of the chocolate.

---

Tought I'd better get a picture before they are all gone...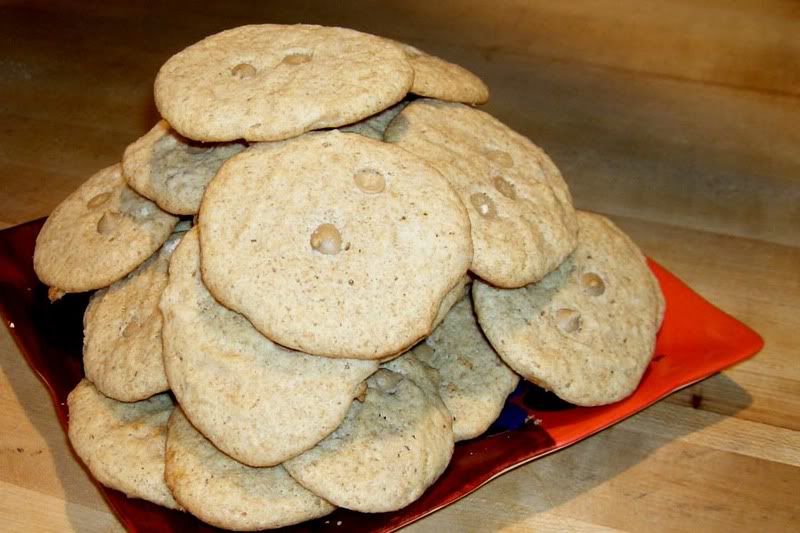 ---
Re: P.Butter Cookies w/Cappuccino Chips - Roxanne 21 - 10-08-2007

YUMMMM!!!!!! Peter will love these on his quest to GAIN some weight back----
Nice, Jean!!


---
Re: P.Butter Cookies w/Cappuccino Chips - cjs - 10-08-2007

but, but, but....these are healthy cookies (as cookies go), Roxanne!!
Save those for you and make these for Peter!


PEANUT BUTTER CHEWS

1 cup shortening
2 cups peanut butter
2 cups sugar
4 large eggs
2 teaspoons vanilla
2 cups flour
1 1/2 teaspoons baking soda
1 teaspoon salt
1 1/2 cups rolled oats (oatmeal)
1 cup brown sugar

Combine shortening through vanilla and blend thoroughly.
Add flour through brown sugar and mix together.

Dump out on a cookie sheet that has an edge. This can be spread with a rolling pin, or butter your hands and push out to edges of sheet.
Bake at 350° for 20-25 min.

If desired can be frosted with mix of powder sugar, water & vanilla. (but doesn't need it!)

Jean's note: a few years ago I started playing with this recipe to use as a cookie - here's the results. I don't know if they really are not as good as the original recipe or if it's because we are all so used to the bars, but we do prefer the original - it's probably all in hour heads, 'cause these are good as cookies!!

Alternative - Cookies instead of bars:
Use a scoop (I used a large one for giant cookies)

Bake at 350° - for larger cookies/20 min. smaller cookies/6-10 min. depending on size.



Description:
"The cooks at my children's grade school, Willow Glen Elementary School in Willow Glen, CA, made these bars for school lunches - the kids loved them so much, they finally had to give all of us the recipe. They are just wonderful."
- - - - - - - - - - - - - - - - - - -


---
Re: P.Butter Cookies w/Cappuccino Chips - luvnit - 10-08-2007

Yum.... Those look so good! I like your plate also, very pretty. I miss peanut butter cookies. My son has severe peanut allergies and we've been advised by emergency personnel to NEVER have peanut butter or peanuts in our home.

We abide but that, but sometimes when I am out I grab a Pearson's Salted Nut Roll and eat it before I get home.


---
Re: P.Butter Cookies w/Cappuccino Chips - Lorraine - 10-09-2007

Thanks, Jean, he loves cookies!!!


---