---
ISO - Pumpkin Soup (Butternut Squash?) - DFen911 - 10-06-2007

Ok amongst my 100's of magazines I know I saw one for a pumpkin soup or it might have been butternut squash. It had turkey in it as well, but may have been a turkey sausage. Just can't be beef or pork.

I'm so craving a good hearty autumn soup (stew).

If I ever win a lottery my uber spluge item will be a secretary haha.


---
Re: ISO - Pumpkin Soup (Butternut Squash?) - bjcotton - 10-06-2007

I haven't made this one, but knowing the chef, I'll bet it's delish.


* Exported from MasterCook *

Butternut Squash Bisque w/Bourbon Maple Syrup

Recipe By :Kelly Johnson
Serving Size : 4 Preparation Time :0:00
Categories : Soups-Stocks-Sandwiches

Amount Measure Ingredient -- Preparation Method
-------- ------------ --------------------------------
SOUP
3 pounds butternut squash, peeled and diced
1 large onion -- sliced
3 cloves garlic -- chopped
1 quart heavy cream
1/2 cup brown sugar
1/4 pound butter
1 quart milk
1 teaspoon ground nutmeg
2 teaspoons dry mustard
1 tablespoon ground cinnamon
salt and freshly ground black pepper -- to taste
BOURBON MAPLE SYRUP
1 cup bourbon
3 regular ice cubes----OOPS, WRONG REC
1/2 cup brown sugar
1/2 cup maple syrup

SOUP: In a heavy bottom pot melt the butter and add the onion and the garlic; cook over med-low heat until just softened and translucent.
2. Add the brown sugar and simmer until melted in.
3. Add the butternut squash, nutmeg, mustard, cinnamon, milk and cream and simmer until the squash is cooked through.
4. Put the soup in the blender (carefully) and puree.
5. Strain through a china cap and season to taste with salt and pepper.
BOURBON MAPLE SYRUP: In a small pot add brown sugar and bourbon and reduce (watch out for spontaneous combustion) until thickened and foamy.
2. Add maple syrup and simmer 3 more minutes.
3. Let cool to room temperature before using. Drizzle over soup before serving.


---
Re: ISO - Pumpkin Soup (Butternut Squash?) - SDRecipeGirl - 10-06-2007

I made this one recently and it was delish!!!

PUMPKIN SOUP WITH GRUYERE
Darn it all, I can't get the link to work. Oh well- it's on my home page if interested (In "RecipeGirl's favorites)
www.RecipeGirl.com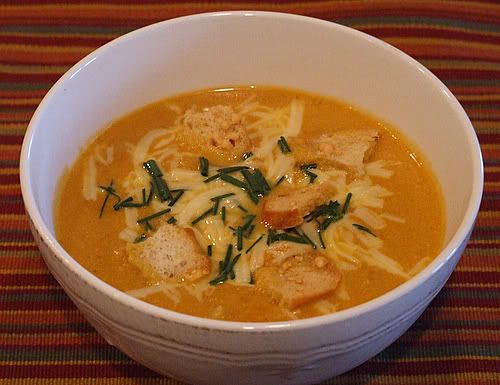 ---
Re: ISO - Pumpkin Soup (Butternut Squash?) - Roxanne 21 - 10-06-2007

There is a great butternut squash soup in Splendid Soups--I made this for myself while DH was away---just cuz I didn't think this was up his alley---very good and tasty!!! The difference would be to roast the squash for extra flavors---I though this was a great autumn soup.

If you need the recipe---I will be happy to post!!!
milë:


---
Re: ISO - Pumpkin Soup (Butternut Squash?) - cjs - 10-06-2007

BILLY J!!! I was just going to post Kelly's soup!! It's wonderful, Denise and the maple syrup drizzled over is soooo good - with a sprinkling of chives. The only thing I did differently was to roast the squash first - but I do that anytime I work with squash, no matter what the recipe. (I haven't made the c@h one yet, but it looks good also.)


---
Re: ISO - Pumpkin Soup (Butternut Squash?) - Mare749 - 10-06-2007

Nice pic, Lori! Sure makes me hungry.

Maryann


---
Re: ISO - Pumpkin Soup (Butternut Squash?) - coco hernandez - 10-07-2007

In issue 47 there is a butternut tortilla soup that looks very good. Someone with members plus could probably call it up really easy, or I will be happy to type it up for you. It comes with a lime cream for a garnish or topper.


---
Re: ISO - Pumpkin Soup (Butternut Squash?) - cjs - 10-07-2007

here you go - coco's recommendation. I haven't made this one, but it does look good.

Butternut Tortilla Soup
(Cuisine at home, October 2004, Issue 47, p. 32)
Makes: About 12 Cups


For the Butternut Tortilla Soup—
Parbake; Let Cool; Peel and Dice:
1 butternut squash (about 1 1/2 lb.)

Pulse in Food Processor until Finely Chopped:
1 cup fresh corn kernels (2 ears)
1 cup onion, coarsely chopped
2 large garlic cloves
1 jalapeño, seeded

Heat:
2 T. vegetable oil

Add; Saute until Crisp:
2 corn tortillas, cut into 1

Stir in along with Corn Mixture:
2 cups Roma tomatoes, seeded, chopped
2 T. tomato paste
1 T. ground cumin

Stir in along with 1 1/2 Cups Squash:
6 cups chicken broth

Brown in Nonstick Skillet:
1 1/4 lb. ground turkey*

Stir in; Cook until Wilted:
6 oz. baby spinach

Add along with Remaining Squash:
1 can (15.5 oz.) white hominy, drained
Salt and pepper to taste


For the Lime Cream—
Stir Together for Garnish:
1 cup sour cream
2 T. fresh lime juice
1/4 t. kosher salt
1/4 t. ground cumin
Minced zest of one lime

Preheat oven to 350°. Prepare squash by pricking the skin with a fork.

Parbake it by baking for 30 minutes, or until skin loosens, turning once. (Tongs will leave an indentation on the skin when the squash is done.) Cool until easy to handle; peel and dice to yield about 3 cups.

Pulse corn, onion, garlic, and jalapeño in a food processor until finely chopped.

Heat oil over medium heat in a large stock pot.

Add tortillas and saute until slightly crisp.

Stir in corn mixture, tomatoes, tomato paste, and cumin; cook 5 minutes, stirring frequently.

Stir in broth and 1 1/2 cups squash; bring to a boil. Simmer 10 minutes, then blend soup in small batches until smooth in a food processor. Return soup to the pot and bring to a boil; reduce heat and simmer 10 minutes.

Brown turkey in a nonstick skillet over medium-high heat, breaking up any large chunks with a wooden spoon.

Stir in spinach and cook until wilted.

Add remaining squash, turkey, and hominy; simmer 5 minutes, then season with salt and pepper.

Stir all ingredients together for the Lime Cream. Garnish soup with Lime Cream right before serving.

C@H notes:
1. * if ground turkey isn't you cup of soup, try oneof these:
1 1/4 lb. ground sirloin
1 1/4 lb. pork tenderloin, diced
1 lb. kielbassa, diced

2. Puree in small batches to prevent hot soup from leaking out the top.
---

Now Denise, your problem is deciding which to try.
---
Re: ISO - Pumpkin Soup (Butternut Squash?) - coco hernandez - 10-07-2007

Thank you, Jean. With my typing skills, it would have taken me some time to type it up. But I would have been very happy to help.


---
Re: ISO - Pumpkin Soup (Butternut Squash?) - DFen911 - 10-07-2007

Wow so went to a local farmers market today and got cooking pumpkins (won't make that mistake again like I did a few years back) and butternut squash. I'm gonna make em all


My neighbors will all get a taste too.

Roxanne yes please do post or PM that recipe to me


You guys all the best!


---