---
DINNER THREAD, 3/20/17 - 3/26/17 - cjs - 03-20-2017



Monday's dinner - 3/20/17??





What's for dinner?? 



No idea here - I took a pkg. of short ribs out of the freezer yesterday, but don't think they'll be thawed earlier enough to do anything with today. (please don't suggest using the IP!!
) 
P.S. First day of spring......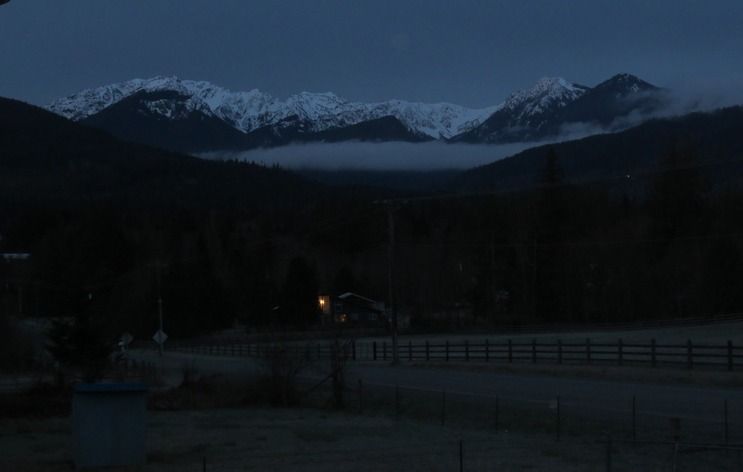 ---
RE: DINNER THREAD, 3/20/17 - 326/17 - Trixxee - 03-20-2017

I'm up in the air.  We have leftover bbq'd beef but I'm thinking of saving that for tomorrow (Tony work's from the real office on Tues/Thurs and it's just easier to have something to heat up on those days because I'm never sure when he's going to walk through the door).

I printed out a recipe for a lentil salad with capers and a balsamic dijon dressing yesterday that I think would go really nice with grilled salmon.  (I've gained 3 pounds back over the last 3 weeks - this is dreadful) and I know better than to get on the scale on a Monday morning.

http://www.thegardengrazer.com/2014/08/lentil-salad-with-capers-and-balsamic.html


---
RE: DINNER THREAD, 3/20/17 - 326/17 - Mare749 - 03-20-2017

Oh no, Trixxee! You need to make Friday your weigh-in day!


I took out baby back ribs from the freezer yesterday and put a rub on them this morning. They will go into the IP, yes Jean, the IP!!! for 20 minutes, then into the broiler for basting with sauce. We have been very happy with this method.


---
RE: DINNER THREAD, 3/20/17 - 326/17 - cjs - 03-20-2017

Oh Trixxee, just remember the rotten 'plateaus' (sp?) we're always warned about during a losing weight regime - get back on that friggin' horse and keep on going!! You're doing great.


"They will go into the IP, yes Jean, the IP"  - 


Long story I'll try to make very short.... this has been such a God-awful winter that I finally gave in and subscribed (and/or re-subscribed) to almost every food magazine to have things to read besides novels. I even have Rachel Ray coming in the house and I'm really surprised at the great inventive cooks she has working for her magazine. I've gotten a lot of short cut ideas from her.

Today, I did a skillet recipe (of hers) with sausage, tomatoes and (supposed to use) Cannellini beans. Pantry empty, but there was a can of beans which I got for free with a 'just for you' coupon. Bush's Cocina Latina Frijoles a la Mexicana, so subbed that. What a great flavor it added to the skillet dish. Gonna buy a few cans to have on hand.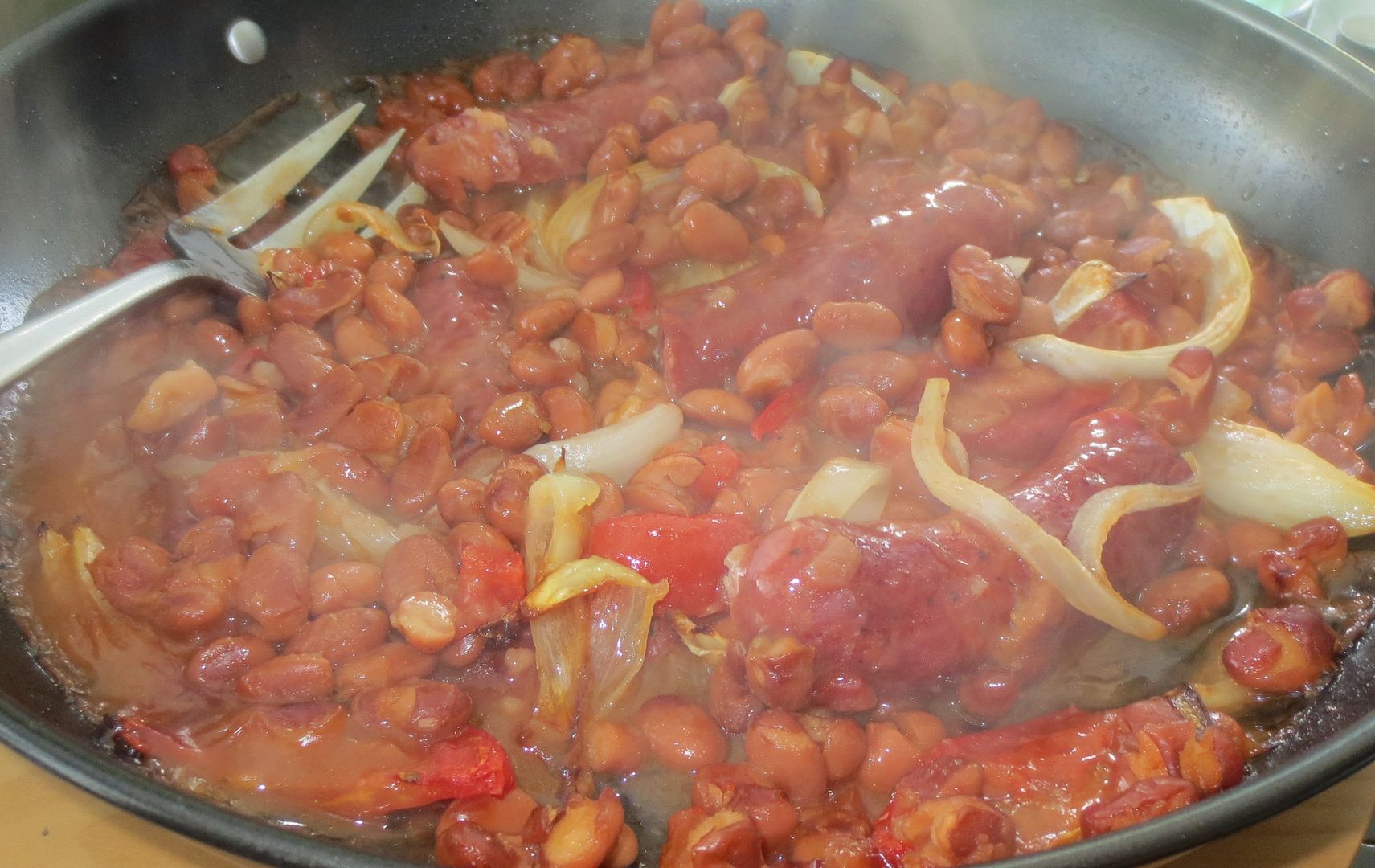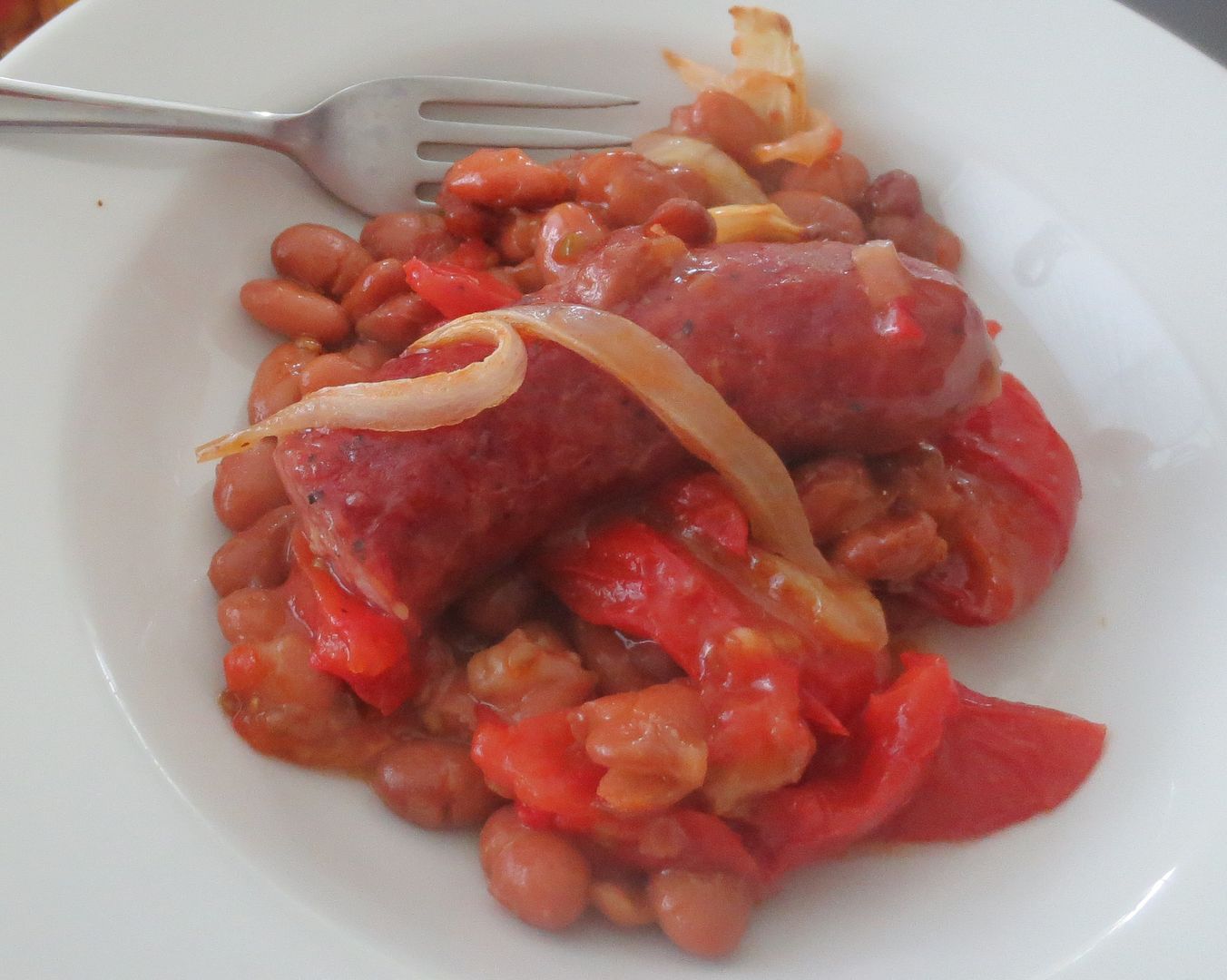 ---
RE: DINNER THREAD, 3/20/17 - 326/17 - Trixxee - 03-20-2017

Looks delicious.  Beans are so good for you.

Speaking of novels, are you still reading The Glass Castle Jean?  Have you started it Maryann?  We are on page 122.  Class only seems to read maybe 10-15 pages a day, they must be doing other things at the same time.


---
RE: DINNER THREAD, 3/20/17 - 326/17 - Gourmet_Mom - 03-20-2017

Jean, I watch her show.  The biggest complaint is how she often talks over her guests.  I think she has gotten a little better tha last few shows I've been able to catch.  And her guests and recipes are often really well done.

I planned dinners last week, and I got everything for a favorite...Chicken Ramen Stir Fry, but I didn't get to it until tonight.  It was tough coming in late and doing all the slicing by hand, but I managed, even if dinner was really late.  OIY!


---
RE: DINNER THREAD, 3/20/17 - 326/17 - Mare749 - 03-21-2017

That looks delicious, Jean. Bush's beans are my favorite canned bean. They are always consistently high quality.

Trixxee, I am so embarrassed to tell this story. I downloaded The Glass Castle from my library using Overdrive so that I could listen to it while doing housework.  I got a couple of chapters into it and thought that it just didn't sound at all like the story you described.  

So, I went back and checked and wouldn't you know, I had the right title, just not the right author!  The story I was listening to didn't really interest me so I turned it back in and put in a request for the right book.  However, I might have to wait a bit because even though they had several copies, all were out on loan.  Hopefully, it will come in soon so I can try to catch up.


ETA: I baked a spaghetti squash to go with dinner tonight. It was the first time trying it. Wow, was it delicious! All I used was a little olive oil, salt and pepper, and sprinkled with a bit of parm. Yum.


---
RE: DINNER THREAD, 3/20/17 - 326/17 - cjs - 03-21-2017

I find when I read an (auto-)biography I need to read another book along side. I seem to get bored with all the 'I's or something. Really can't say why they affect me that way. So, I'm slowly getting thru it - but have to say, I'm really having a hard time believing this is all true...............


I used to do Spaghetti Squash often, but don't know when/how I got away from it. I guess since Roy does the majority of the shopping now, it's a matter of out of sight/out of mind.

A friend who is by herself brought me over two large bags of last year's blackberries because she's not doing much canning/baking just for herself so I think I'll thaw out one bag and make some jam and share with her. And, maybe a cobbler next week.


---
RE: DINNER THREAD, 3/20/17 - 326/17 - cjs - 03-21-2017



Tuesday's Dinner, 3/21/17??





What's for dinner today? 





I did short ribs in the slow cooker yesterday and both of us nibbled (A LOT!) on them last night - they were not meant to be served, but they were sure good. Blow my horn a little - the recipe is from a little book I've put together, "On the Road...." and they are so tasty! Not sure what I'll do with them today.




---
RE: DINNER THREAD, 3/20/17 - 326/17 - Trixxee - 03-21-2017

Ha - I know what you mean about how can all of this possibly be true?  One misstep after another.  I feel like mother of the year compared to Rose Mary.  LOL!

I pulled some meatballs and marinara from the freezer so Michael will have some with pasta and I'm going to make a small dish of eggplant parm for us to go with.  Cheating and bought the breaded eggplant cutlets from Trader Joe's.


---