---
My Tale of Asian Woe - cjs - 10-26-2016



My Tale of Asian Woe – grab a cup of coffee, tea, or wine or just scroll on thru this diatribe…..it was a dark and stormy night…no, get back on track, Woman!




 




I did not want to cook last night, so we scrolled thru local Asian restaurants that delivered (our old one evidently has closed In the last 3 years since we've ordered) and came up with a choice and went with their #4 –




No. 4     $11.99


BBQ Pork
Mongolian Beef**
Sweet & Sour Chicken
Pork Fried Rice


 




Only to learn there is a $20.00 minimum…so o.k. make it 2 #4s. Everything arrived and as we got into the Mongolian Beef (which I normally love!) – all I could taste was raw onions. Not a speck of stir-fry on them at all. Completely overpowered the entire dish.  The rest of the dinner wasn't too bad, but we already had a bad taste in our mouths, so to speak, so didn't eat much of the one dinner we wanted  to split in the first place.




 




Now, here we are stuck with all these leftovers PLUS a whole 'nother #4 to get thru.




This morning I nicely pkg'd up all the different elements plus did a nice caramelization on those darn onions. I decided to keep track of all the goodies I can make with all of this… and to start it off – of course PIZZA!! Ya'all knew this was coming, right?




 




To start playing with the ingredients for this pizza, I made a sauce to brush on the pizza to start us off – 2 T. orange marmalade + 1 tsp. Sambal Olek (chili sauce). I'll tell you I could have stopped right there. This sauce is so good  adding just a hint of sweetness plus heat and I'm thinking it can be used in so many ways. The pizza itself was very simple  - the orange/sambal olek sauce, Mozz/Swiss cheese, Mongolian beef and the 'cooked' onions.  One of the best pizzas I've made.




 




So, one dish down and how many to go – I still have lots of Mongolian beef and onions, BBQ pork, Pork fried rice and Sweet & Sour Chicken.




 




To be continued…………………



---
Piddle, I've sent an S.O.S. to Tony - why the pictures are so big again.............


---
RE: My Tale of Asian Woe - Gourmet_Mom - 10-26-2016

I hope he fixes it soon.  I can't wait to see!  The flavors sound great!  And what lovely ingredients to play with!  I am anxious to hear what you do with it all!  Especially since I've gone crazy over Asian lately.  Come to think of it, I think we need to hit the new to us Asian place again tomorrow!


---
RE: My Tale of Asian Woe - cjs - 10-27-2016



Daphne, this how the pictures should look! Had to go back to going thru Photobucket, tho.





Have to say this orange marmalade/Sambal Olek is wonderful!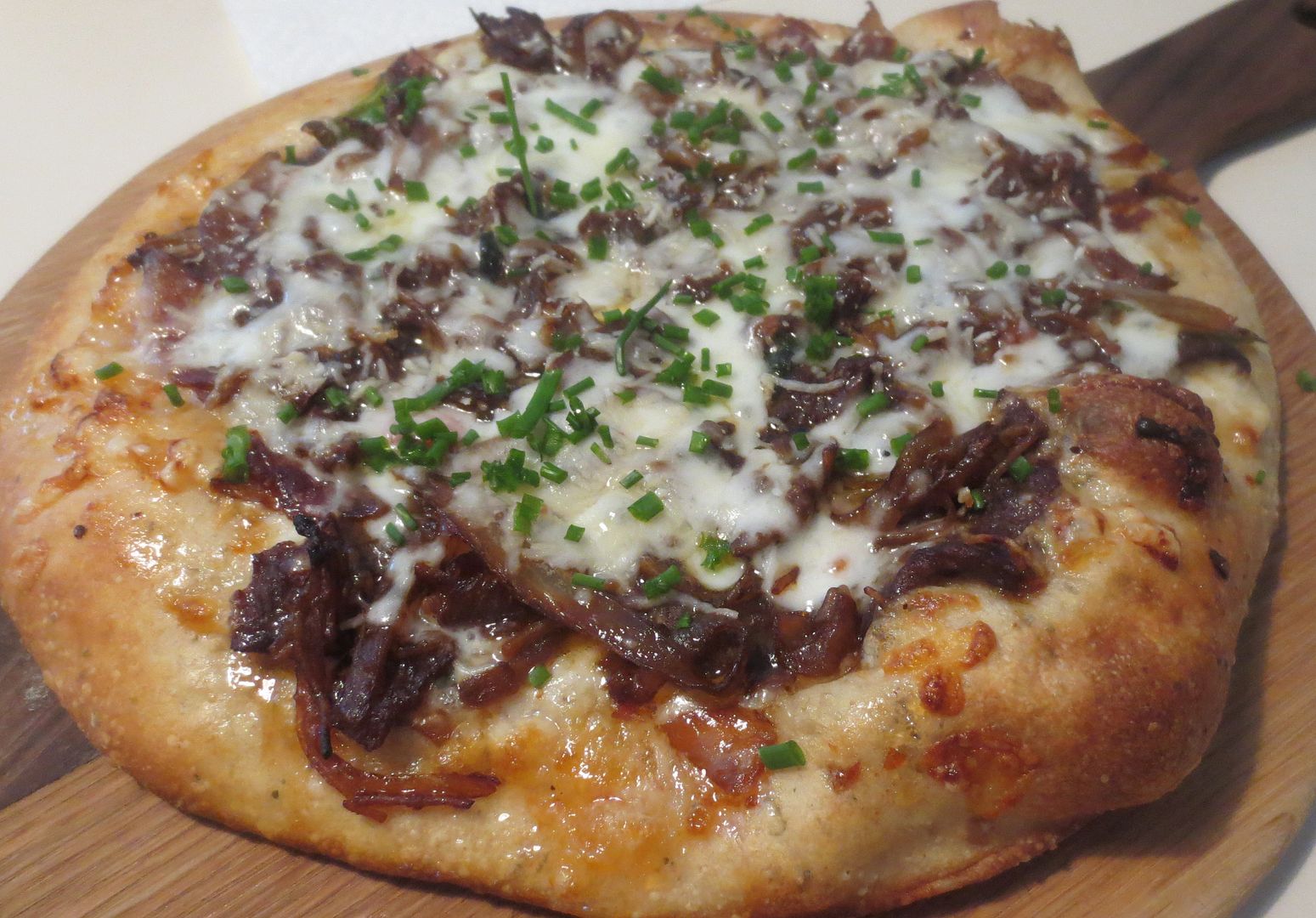 ---
RE: My Tale of Asian Woe - Old Bay - 10-27-2016

I believe Mongolian Beef is my favorite Asian dish.  Fortunately we have a local that can prepare it.


---
RE: My Tale of Asian Woe - cjs - 10-27-2016

Fire up the pizza oven, Bill - this one is really, really good!!!!

Today, I worked with the pork fried rice and what a nice dish it turned out to be.
Layered the rice and topped with roasted salmon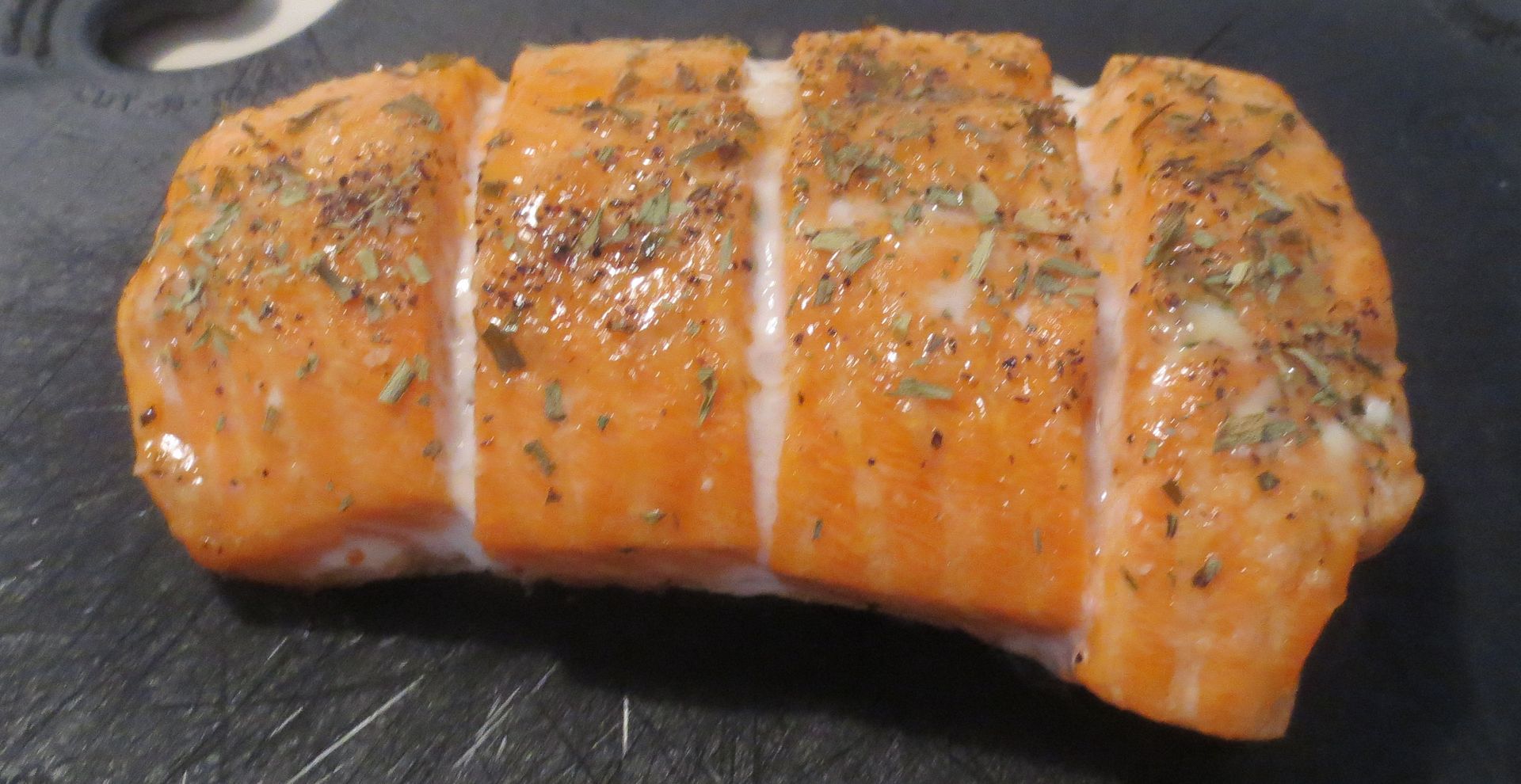 and garnished with apple mango chutney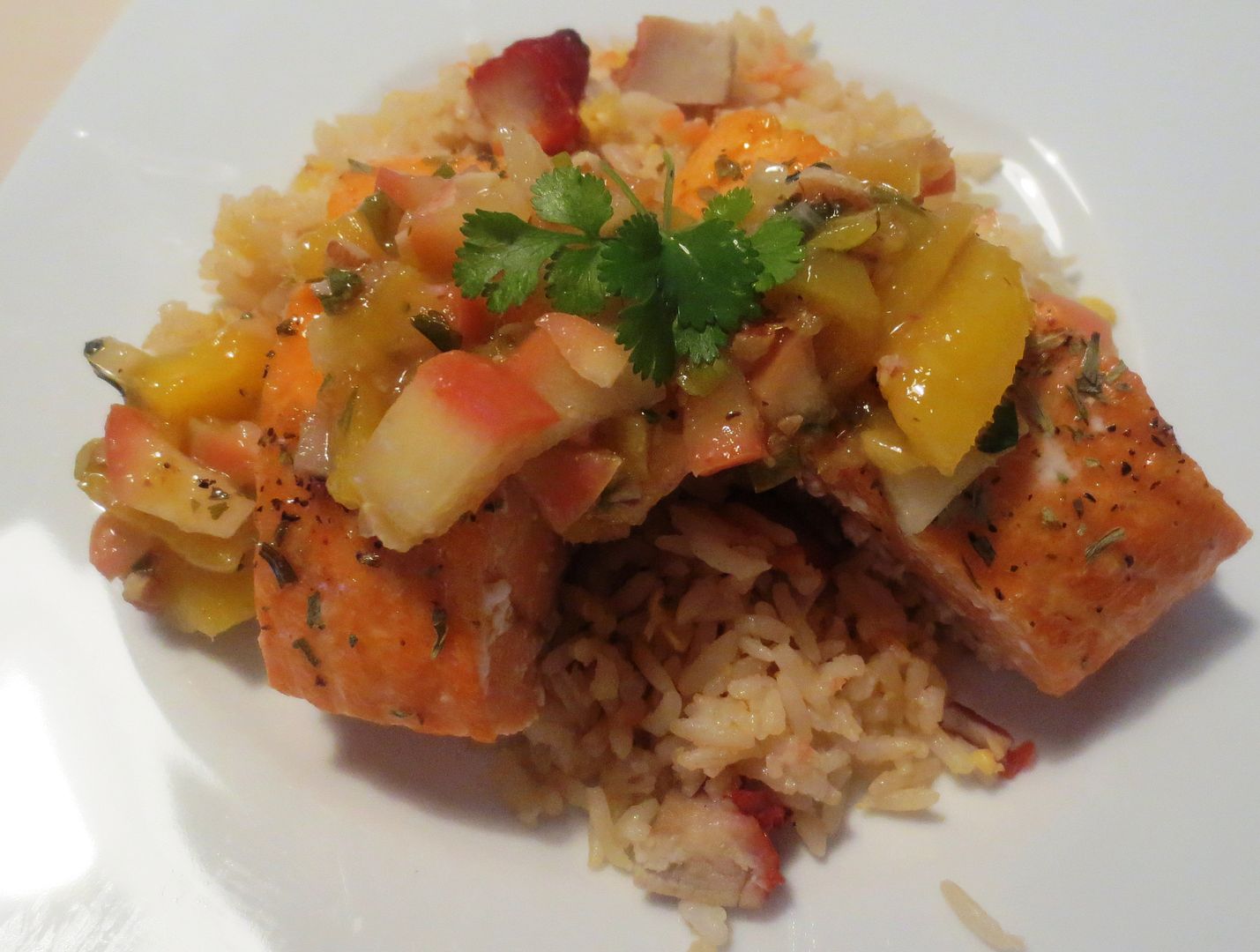 A very nice dish AND now I have a little leftover roasted salmon, which will go in soft fish tacos finishing up the chutney and salmon tomorrow.
---
The chutney/compote recipe is a take off from a C@H recipe I tried 2/14/15 - didn't think it had enough flavor, so worked on it and we really like this version. If anyone would like another recipe for a great condiment.

Apple & Mango Compote*****
A take off of a salsa recipe that was lacking in flavor. 2/14/15. The original salsa was from C@H recipe for coconut rice and Salsa - but it just wasn't tasty enough. So used an old recipe I did for an Auburn, CA street fair with polenta and it was just perfect.

1 mango, peeled, pitted, diced
1 Granny Smith apple, diced
Juice of 1 lime
-------
3 oz water
1/4 cup sugar
1/4 cup white wine
2 Tbs lime or lemon juice
1 stick cinnamon, broken
1/4 tsp red pepper flakes
------------
2 Tbs minced cilantro
2 green onion, white & green parts, thinly sliced
2 Tbs chopped toasted nuts

1. Toss together the mango, apple and lime juice; set aside.
2. Heat the water, sugar, wine, lemon juice, cinnamon stick and red pepper flakes to boiling, stirring often. Boil until reduced to approx. 1/3 cup, about 6 to 8 min. Add the apple/mango mixture and cook over med. heat, stirring occasionally until just tender, 5 to 6 min.
3. Add the cilantro, green onions and nuts; continue cooking for 1 min; remove pan from heat and let liquid cool slightly.
4. Discard the cinnamon stick(s) and serve.


---
RE: My Tale of Asian Woe - Gourmet_Mom - 10-27-2016

Looks and sounds delicious, Jean!


I am now pretending this is a slurpy face!  LOL!


---
RE: My Tale of Asian Woe - Harborwitch - 10-28-2016

That pizza sounds really good.  How fun.  I usually just scarf down my "doggie bags" for breakfast the next morning.  I might have to stop that!


---
RE: My Tale of Asian Woe - cjs - 10-28-2016

Oh, Sharon, with your larder you would have so much fun playing with l/os!


---
RE: My Tale of Asian Woe - Harborwitch - 10-30-2016

Lately l/os have been little bits, just enough for a bitty breakfast.  We've taken to lunches instead of dinners and I'm the only one with leftovers.  Bob never leaves much, if anything.  I did bring home some Mongolian Beef & Broccoli and rice on our anniversary - but pigging out on ice cream while forgetting we are lactose intolerant took away most of our interest in food for a couple days! I wound up eating it cold for breakfast.


---
RE: My Tale of Asian Woe - foodfiend - 10-30-2016

Love the marmalade/ sambal olek idea!  I used to make a Thai pizza that had a sauce made of hoisin, peanut butter, soy sauce, garlic, lime juice, brown sugar, etc.  Very flavorful, but a bit of a pain to put together at the last minute so I may just try the pizza ingredients with Jean's sauce recipe the next time.

Pizza looks darn good, too!


---