---
Re: Instant Pot Recipes - cjs - 06-13-2016

yes, the meat was beginning to shrink back.

No, not upright - I only do about 1/3 of a rack at a time - this gives us a dinner and a little for a pizza. So had to lay it down as I normally do. They're not 'not done' just a little more resistant than normal. But, we'll see.

Also, been debating whether to post this hint or not - I think you, Maryann, Alina and Daphne once in a while read the posts here. But -

I hope the jus from the ribs (no matter how you prep them - braise or IP) is saved. I love using it for rice, noodles and this morning I made the best ham & Andouille veggie soup with the jus.


---
Re: Instant Pot Recipes - Mare749 - 06-13-2016

Now that's a great idea! I save every single bone from beef, pork and chicken, but didn't think to save the jus from the instant pot!
---
Re: Instant Pot Recipes - cjs - 06-13-2016

I'm so glad I mentioned it then!!!Well shoot, I didn't think of adding the bones to the soup - great idea!! Will do this next time.

Used the IP (Instant Pot) for the ribs and I'm really torn – I don't know if I want to go less time or not. So close…. Maybe next time I'll try 19 min. – 1 min. make a difference??
We'll see.
We had 2 bottles of wine open and both were wonderful with everything on the plate – the ribs, asparagus and the potato salad! Gewurztraminer and a Ravenswood Zin.
Happy flavors.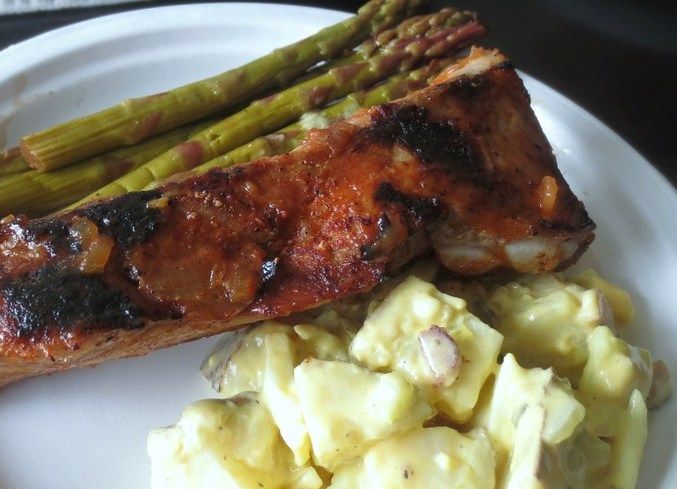 ---
Re: Instant Pot Recipes - Gourmet_Mom - 06-13-2016

Good grief! Now I'm craving ribs! William will just have to get over it! Maybe if I make the blue cheese potatoes he likes so well to go with them. Yummy looking plate Jean!


---
Re: Instant Pot Recipes - cjs - 06-13-2016

It was good, Daphne


---
Re: Instant Pot Recipes - Cubangirl - 06-13-2016

Jean, I'm confused, were the ribs too done or not enough? I've never done bone-in ribs in the IP. These were pork correct?

I made a pot roast in the IP and it had way more liquid than usual. I put the extra in a defatter and put it in the fridge (the kind with the handle and the hole at the bottom). We ended up adding it right from the defatter to all sorts of dishes. Now I have the extra from my Cuban beef stew and are doing the same. For example, I browned 2+lbs. of ground beef with garlic powder, dehydrated onions (didn't want to chop fresh), cumin, etc. until dry. I then used some on fresh flour tortillas. Didn't have sour cream so I used the last of my homemade overstrained yogurt and used a bit of the liquid to thin it to more spreadable sour cream consistency. Super quick, easy and very tasty. I could have added more stuff but it was late and I was very hungry.


---
Re: Instant Pot Recipes - BarbaraS - 06-13-2016

WT...Foxtrot!!! Ribs in 20 minutes?? Okay, I need to look at this seriously. What size IPs do you all have?

Barbara


---
Re: Instant Pot Recipes - Mare749 - 06-13-2016

Jean, I would go with the full 20 minutes. You can always firm them up in the broiler if they are too soft.

Barbara, I have the 6 qt. Instant Pot and am having a great time with it.

Daphne, I have to ask about those blue cheese potatoes! How are they done??? Yum.


---
Re: Instant Pot Recipes - cjs - 06-14-2016

Yes, Alina, pork ribs with bones. I don't care for ribs when the meat falls off the bone, so I backed up the time to 18 minutes. They were done, but a little more resistance than I prefer. So, I'll go with the 20 min. next time.

The jus from meat products is just a wonderful seasoning to so many things.

I have the same IP as Maryann - 6 qt., Barbara. And, I'm finally over being intimidated by the dang thing.
---
Re: Instant Pot Recipes - Cubangirl - 06-14-2016

I would highly recommend the 8qt. You can do everything you can do in the 6 plus more. Easier to take things in and out when you do pip (pot in pot) an normal sized 8" baking pans fit in it. Easier for big things like ribs, roasts, whole chickens, etc.


---