---
Fried Potatoes?? - cjs - 12-13-2013

How do you all fry your potatoes??

I tried a new method today (after what, 60 years???????????
) - Started them (potatoes and onions) for 15-20 minutes - in cast iron skillet of course, then I added 1/4 cup water & my garlic and covered them. Did this a second time after the water had cooked away. Then when dry again, I turned the heat up to med-high and brown up. I think they turned out the best I've made.

Our dishes - mine first (egg cooked properly...) but the potatoes don't show.



and, this one is Roy's with his egg cooked too long for me - but the potatoes kind of show.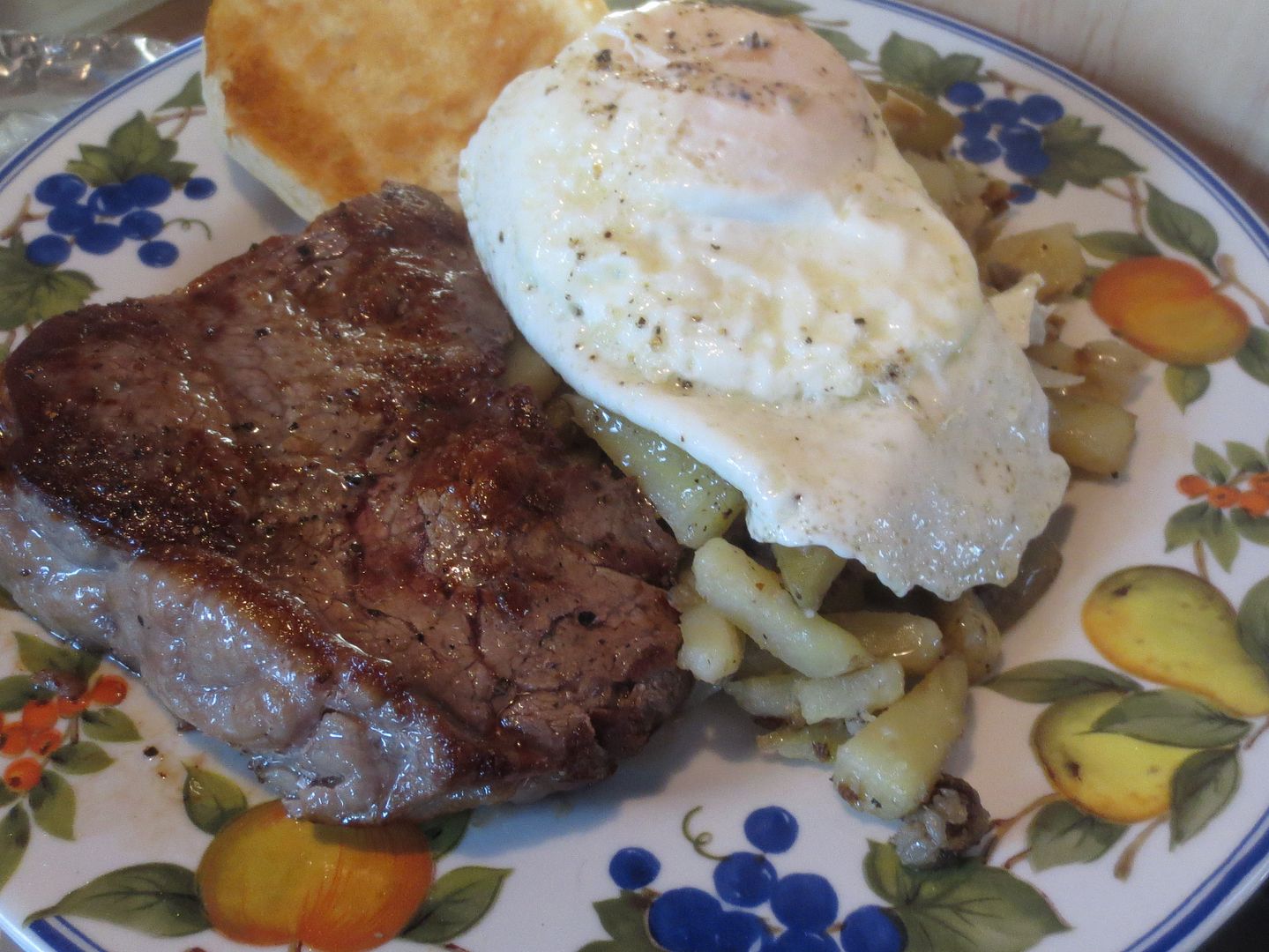 I'm open to new ideaa from you all.
---
Re: Fried Potatoes?? - DFen911 - 12-13-2013

I soak them in water (changing it 2-3 times) for about an hour before cooking to pull the starch out. If I'm in a hurry I'll par boil them for 7-10 minutes, drain well and add to skillet with butter or duck fat.


---
Re: Fried Potatoes?? - Mare749 - 12-13-2013

I use my well-seasoned large cast iron skillet, get it nice and hot, pour in some oil, then pile in the potatoes, salt and pepper. Then, after a few minutes, lower the heat to medium and let it go until the bottom is all nice and brown, checking it a few times. Then, ideally, try to flip the whole pile over at once, but I usually have to cut it in half and turn each half separately. After flipping, I usually cover to hold in the steam and cook another 10 minutes or so until done. Total time approx. 20 minutes.

When Ron makes them, he mostly does the same thing, but he likes to add a scrambled egg at the end, so you have to break it all up so the egg can cook.


---
Re: Fried Potatoes?? - Gourmet_Mom - 12-13-2013

I do it Ron's way, but I add onions with the potatoes and I start with sausage.


---
Re: Fried Potatoes?? - cjs - 12-14-2013

Such a simple dish, but oh soo good!!


---
Re: Fried Potatoes?? - Lorraine - 12-14-2013

I never make good fried potatoes, so it's Gil's job. He makes them like Maryann does.
---