---
June 13, 2011 Mystery-Box review - labradors - 06-13-2011

Loved this combination of ingredients - SO many possibilities!

For this challenge, I decided to make not only a main dish but also, as a crazy experiment, a dessert.



The main plate:

Tamarind-Marinated Pork Cutlets with Savoury Mousse Trio

Two succulent pork-leg cutlets, marinated in tamarind, rum, cinnamon and a little bit of Sriracha.
Served with roasted-red-pepper mousse, snow-pea/chickpea mousse and mango and goat-cheese mousse.






The dessert:

Mango and Goat Cheese Muffins with Roasted Garbanzo Flour



The tropical sweetness of mangoes and the earthy tanginess of goat cheese in muffins made from gluten-free, roasted-garbanzo (chickpea) flour.




Savoury Mousse Trio
Ingredients:
1 Cup Purée of roasted red bell peppers (from about 2 medium peppers)

7 Oz. Snow pea pods, strings removed

1/4 Cup Water

1 Cup Soaked, cooked garbanzo beans (chickpeas), skins removed, (or cooked, canned, with skins removed) (see notes)

1/4 Cup Garbanzo-cooking liquid (or water)

1 Cup Mango, in small dice

4 Oz. Goat cheese

1 1/2 Cups Water (divided)

3 Packets Unflavoured gelatin (7 - 7.5 grams per packet)

3 Cups Heavy cream, chilled
Instructions:
If necessary, roast, seed, devein and purée the peppers to get 1 cup of purée.

Blanch the snow pea pods in boiling water for two minutes.

Shock the snow pea pods in ice water for two minutes.

purée the snow pea pods with 1/4 cup of water.

purée the garbanzo beans in 1/4 cup of their cookng juice or 1/4 cup of water.

Combine the garbanzo-bean purée with the snow-pea-pod purée.

purée the mango with the goat cheese.

Put 1/2 cup of water into a saucepan.

Sprinkle one packet of gelatin evenly over the top of the water in the saucepan.

Allow the gelatin to sit in the water for 5 minutes.

Heat the gelatin over low hear, stirring frequently, until it just come to a boil.

Remove the gelatin from the heat.

Thoroughly stir the roated-red-pepper purée into the gelatin.

Place the pan into the freezer for two minutes or allow it to cool to room temperature.

While the gelatin is cooling, whip 1 cup of the cream to stiff peaks.

Gently fold the whipped cream into the gelatin mixture.

Place the mousse into a zip-top bag.

Seal the bag, removing as much air as possible.

Chill in the refrigerator until firm (3-4 hours) or over night.

Repeat steps 8-19 for the snow-pea-pod/garbanzo mixture and the mango/goat-cheese mixture.
Notes:
Not sure how many dried garbanzos this would be, since I soaked and cooked an entire package. My guess is that it would be around 1/2 Cup, since they about double in size after soaking over night.

Removing the skins from the garbanzos makes for a smoother purée. Just rub them in your hands and pinch them between your thumb and forefinger. The skins come off pretty easily once the beans have been cooked.
Tamarind-Marinated Pork Cutlets
Ingredients:
1 1/2 Cups Tamarind concentrate (see notes)

1/2 Cup Sugar

1 Tbsp. Cinnamon

1 Tsp. Salt

2 Tsp. Sriracha

1 Cup Rum

2 Lb. Boneless pork leg, sliced into 8 cutlets

2 Tbsp. Vegetable oil
Instructions:
Mix the marinade igredients together well.

Place the marinade and the cutlets into a zip-top bag, making sure the cutlets are well coated with the marinade.

Seal the bag, removing as much air as possible.

Marinate the cutlets over night.

The next day, remove the cutlets from the marinade, wiping off the excess marinade and reserving all the marinade for later.

Heat a sauté pan to moderately high heat.

Add and heat the vegetable oil.

Pan fry the cutlets until well browned on each side and the internal temperature reaches 150F.

Remove the cutlets from the pan.

Place the reserved marinade into a saucepan.

Bring to a simmer.

Allow the marinate to simmer and thicken into a sauce.

For each of four dishes, plate two overlapping cutlets topped with some sauce, a swoosh of sauce to one side and medium ice-cream scoops of each of the three mousses in an arc on the other side.
Notes:
For homemade tamarind concentrate, place 1 lb. of peeled tamarind into a saucepan, cover it with twice as much water as necessary to cover it, bring that to a simmer and let it reduce down to a little less than 1 1/2 cups. Strain the mixture through a sieve, pushing the tamarind flesh theough the sieve with the back of a spoon. Discard the strings and seeds. This will yield about 1 1/2 cups of concentrate.
Mango/Goat Cheese Muffins with Roasted-Garbanzo Flour
Ingredients:
2 Cups Roasted-garbanzo (chickpea) flour (see notes)

1/2 Cup Sugar

2 1/2 Tsp. baking powder

1/8 Tsp. Nutmeg

5 Tbsp. Butter, melted

1/2 Cup Milk

1/4 Cup Freshly squeezed lime juice

1 Large Egg yolk, lightly beaten

1 1/2 Cups Mango, diced

4 Oz. Goat cheese, diced

2 Large Egg whites at room temperature

1/4 Tsp. Cream of tartar
Instructions:
Preheat oven to 400F.

Spray, butter or line some muffin tins.

In a bowl, mix the chickpea flour, sugar, baking powder and nutmeg.

In another bowl, mix the butter, milk, lime juice, egg and mango.

Mix the butter mixture into the flour mixture until all the flour is wet, but don't overmix.

Gently fold in the goat cheese.

In the bowl of a mixer, mix the egg whites and the cream of tartar.

Using low speed, beat the egg whites until foamy.

Using high speed, beat the egg whites until they form stiff peaks.

Gently fold one cup of the egg whites into the batter to loosen it.

Gently fold the rest of the egg whites into the batter.

Spoon the batter into the prepared muffin tins.

Bake for 15 to 20 minutes or until muffins are golden and a toothpick stuck into the middle of the muffin comes out clean.
Notes:
If you can't find roasted garbanso flour, use the unroasted or make your own.

To make your own roasted-garbanzo flour, preheat the oven to 375F, spread out a package of dried garbanzo beans onto a baking sheet, place them into the oven for 15-20 minutes, then remove them from the oven to cool. Once they have cooled, grind them in a food processor, a little at a time, until they make a powdery flour. At first, this is VERY loud, but it gets quieter as the garbanzos become more finely ground. In fact, it will take a few minutes per batch and you'll get to know the sound of when they are about ready. Run the flour through a sieve or sifter and reserve any sifted-out chunks for further grinding. Continue this process, with the whole beans and the sifted chunks, until you have ground them as much as possible.

REVIEW:
The pork was delicious, but probably could have used less rum - maybe 1/2 cup, instead of a full cup. The idea was to take a little bit of one of the mousses with each bite of the pork, and that worked out well. The mousses were good but, as I had feared, the taste of the goat cheese got a bit lost in the whipped cream of the mousse. I considered useing an egg-white base, instead, but since this wasn't going to be cooked, I wasn't too sure about useing the raw egg whites. Overall, for the whole dish, 8 out of 10.

The idea for the muffins came to me at the same time as the idea for a mouse (initially I had thought of just the mango and goat-cheese mousse). I actually made them twice. The first time, they were flat, had the texture of corn muffins and were a little too sweet. Even so, they were delicious. The differences between my original recipes and the adjustments I made were:

Based upon "standard" advice out there, I used 7/8 cup of garbanzo flour for each cup of regular flour I would have used in the original recipe - thus, 1 3/4 cups total. In the remake, I used a full two cups to try to have more "structure."

In the original recipe, I used 3/4 cup of suger but cut that down to 1/2 cup for less sweetness.

In the original recipe, I used 4 teaspoons of baking powder but felt that was too much, so I cut that back to 2 1/2 teaspoons in the remake, based upon the usual amount of 1 - 1 1/4 teaspoons per cup of flour.

In the original recipe, I used one whole egg. In the remake, I used 1 yolk and then whipped two whites to stiff peaks to try to get more height and better texture. The new texture was wonderful, but the garbanzo flour, having no gluten, just wouldn't hold enough of a structure to maintain domes on top of the muffins so they still turned out flat. When I called Bob's Red Mill, they suggested using 1 3/4 cups of garbanzo flour and 1/2 cup of regular flour but I wanted to try keeping them gluten free (and as a creative use of the garbanzos for the Mystery-Box meal), so that's when I got the idea to try the meringue.
These were absolutely delicious, but since the Mystery Box is no longer an issue, I'll be changing the final recipe to use 2 cups of regular flour. I think I'll keep the meringue in there, though, since I like what it did for the texture. We'll see. The next time I make them (and there WILL be a next time), maybe I'll try half with the meringue and half without and report my findings. For now, 9 of 10.


---
Re: June 13, 2011 Mystery-Box review - Cubangirl - 06-13-2011

Labs, all looks delicious. What a clever idea to make the muffins. I bet they were delicious. If you want to maintain the healthy and lower gluten, though not completely glutten free, you might want to try barley flour. I have a chart that tells you how much grain to grind to get 1 cup.
I really enjoyed this challenge,it gave me something to do beside worry and grieve.




TAMARIND MANGO PORK WITH ORZO WITH GARBANZOS, SNOW PEAS AND GOAT CHEESE

The pork is a riff on my usual Cuban roasted roast pork. Since I could not find a fresh ham, I used a skin on, bone in pork shoulder. I used the skin and fat to make Chicharones. Here is a link to more pictures.
I used tamarind and mango in the dish. We really liked the mango not only cooked with the pork but the fresh on top as garnish as well. I also converted the dish so I could make it in the pressure cooker, since I did not want to have the oven on for that long a time. It turned out fantastic and I will be making it this way again, both with and without the tamarind. I hate boning anything and usually have my fresh ham boned by the butcher. I will use either a Boston Butt or even boned spare ribs next time. I might try a loin, but think it will be too dry. The pork was fork tender and really juicy.

The orzo dish was also really good. The combo of the orzo with the garbanzos, goat cheese, snow peas and red bell pepper gave it different textures. I will be making it slightly differently next time. I did not crumble the goat cheese enough, so DH got some fairly large pieces which he did not enjoy (I did not mind) so I might try a different cheese next time, Asiago or Manchego perhaps or at the very least make sure the goat cheese is in very small pebbles, I thought I had more bell pepper but only had half a big one, next time I will use an entire big one. The red bells with the green snow peas were a lovely contrast to the yellow orzo. I will also try tarragon instead of the thai basil and also use a larger amount of the fresh herbs. I was concerned because tamarind does not play well with most herbs which is why I went with thai. Since it is likely that I will be making this to go with other entrees, the tamarind will not be an issue. Below are the recipes I created:

EXPORTED FROM LIVING COOKBOOK



PRESSURE COOKER PORK SHOULDER****

* Serves 8

Pork shred easily and is tangy with a thin sauce. Can be taken out of sauce and fried for crispier texture or sauce can be reduced if desired. The mango provides a nice contrasting sweetness. Boned shoulder or boned spare ribs should pork even better. Not counting marinade time, pork is ready to go in less than 1 hour and is moist and tender. Not as good as regular Cuban pork, but takes a lot less time. Even better after cooked pork has a chance to sit in sauce for at least a day. Reheats well in microwave.

3 TBS. wet tamarind (also called paste)
1/3 cup water
3 TBS. chopped garlic
1/2 large onion sliced thinly
1½ tsp. kosher salt
3½ lbs. trimmed boned pork shoulder
1 TBS. dried oregano
1/4 cup lime juice
1½ cup orange juice
2 TBS. olive oil
1 tsp. cumin
4 ripe Ataulfo mangoes
1/4 cup sweet Marsala wine

Place ⅓ cup water in a Pyrex measuring cup and put in microwave until boiling, Add 3 TBS. of tamarind paste. Using the back of a spoon or a fork, mash the paste into the water until you get most of the tamarind pulp distributed in the water. Strain into an 4 cup measuring cup and reserve this liquid. Peel and chop garlic, add a bit of kosher salt and mash into a paste. Add the orange and lime juices, the cumin, and remaining salt. Peel onion and slice thinly, cut slices in half.

Cut your pork shoulder into 3 large chunks, trimming off as much or as little of the excess fat. Make holes in pieces and rub garlic paste into holes. Place the trimmed pork pieces in a Ziploc bag, pour the marinade mixture onto the pork and massage the orange marinade over each side and piece of the pork. Add the onions and seal the bag. Place on pie plate and refrigerate for at least 8 hours and up to 36 hours.

Peel and cut mangoes into ½" cubes.

When ready to cook, remove pork from the marinade, and pat dry. Preheat pressure cooker, add olive oil and brown pork in batches removing to plate when browned on all sides. Once all pieces are browned, add marinade to cooker, return the pork pieces, add the Marsala and half of the cubed mangoes. Cover cooker and cook at medium pressure for about 20 Let pressure come down naturally and open to ensure the pieces shred easily with fork and are tender. Shred into bite sized pieces. Taste sauce and salt and pepper as needed. If made earlier, refrigerated and reheat before serving. Place the remaining fresh cubes on top.

Depending upon planned use for meat you can store meat and sauce together or separately. Both will freeze well.


Prep.: 15 minutes Cooking: 45 minutes Inactive: 11 hours Total Time: 12 hours

Author: MINE
Source: Adapted from my Cuban Pork recipe

Recipe Type: ALINA'S ADAPTATION, Cuban Food, Lime, Main Dish, Mango, Marsala Wine, Meat, Orange, Pork, Pressure Cooker



ORZO WITH GARBANZO BEANS, GOAT CHEESE, AND SNOW PEAS*****

Serves 8

Snow peas add a nice crunch, red bell peppers add crunch, sweetness and color. Bell pepper can be sliced while frozen and added. Sprinkle goat cheese at end and make sure it is evenly crumbled not clumped.

Servings: 8 Very easy and quick, looks very pretty, reheats well in microwave.

1½ cups orzo (about 8 ounces)
1/4 cup extra virgin olive oil divided (I used CA Olive Ranch Arbequina)
3 TBS. fresh lemon juice
9 oz. snow peas (TJ's fresh)
1 large red bell pepper
1 tsp. turmeric
2 tsps. ground cumin
1 tsp. Bijol
1 can garbanzo beans 15½ oz.rinsed, drained (TJ's)
4 large garlic cloves, minced
3 TBS. Tarragon or Thai basil
4 oz. soft fresh goat cheese, crumbled -- (about 1 cup)

Rinse snow peas water, then grab or cut the tip of each snow pea and pull out the tough string that runs along its side. Cut snow peas into bite sized pieces. Slice bell pepper into strips and then cut strips into bite sized pieced. Rinse Tarragon and/or Thai Basil and chop in mini processor and remove. Peel garlic and chop in mini-processor. Rinse and drain garbanzos. Whisk 3 TBS. olive oil with fresh lemon juice,

Put water to boil, add salt and then Orzo when water boils. Cook orzo stirring occasionally for 9 minutes. Drain orzo.

Heat a TBS. olive oil In a small sauté pan, Add snow peas and red pepper and stir to mix. Add garbanzos and garlic and stir. Add 2 tsps. cumin, a tsp. of turmeric and a tsp. of Bijol. Add the Thai basil.

Add cooked orzo, to sauté pan, toss with oil lemon mixture and then stir to mix with vegetables. Season to taste with salt and pepper. Gently stir in crumbled goat cheese. Can serve orzo warm or at room temperature.

Preparation Time: 15 minutes Cooking Time: 15 minutes Total Time: 30 minutes

Author: MINE Source: Adapted from a Bon Appétit June 2008 recipe.
Web Page: http://www.epicurious.com/recipes/food/views/Orzo-with-Garbanzo-Beans-Goat-Cheese-and-Oregano-242471

Recipe Type: ALINA'S ADAPTATION, Bon Appetit, Epicurious, Fresh Tarragon, Goat cheese, Lemon, Side Dish, Thai Basil

Not sure if this is what I was supposed to write, but thanks again for this challenge.


---
Re: June 13, 2011 Mystery-Box review - labradors - 06-13-2011

Sounds delicious,

Cubana

. Don't worry about the alternative flour. I did the garbanzo flour for two reasons: first, because the garbanzos were part of the Mystery Box and this was a unique way to make use of them for the challenge; second, because I wanted to have additional garbanzo flour on hand in order to try Jean's Chickpea Fries.

BTW, double check your post: there is at least one spot where what you tried to copy and paste (probably a fraction) didn't show up properly but comes up as a code number, instead. "1/2" and "1/4" often make it, but 1/3 and others don't, so it's best to store ALL fractions fully written out (e.g "1/2"), instead of as the single-character fraction.


---
Re: June 13, 2011 Mystery-Box review - Old Bay - 06-13-2011

We did a fresh ham by cutting slits in the ham, rubbing inside and out with butter, salted and peppered and then coated with a combination of tamarind and ancho chili/vinegar paste. We roasted uncovered at 300 for 3 hrs to an internal temp of 165---the coating was delicious and crisp and the ham was moist.

We modified a recipe from CAH vol 87 and made a pita bowl by deep frying pita bread and holding it under the oil with a ladle. We made a salad of butter lettuce, roasted red bell peppers,steamed snow peas, grape tomatoes, crumbled goat cheese, and the cucumber/Greek yogurt on the same page (9). We drained and dried a can of garbanzos, sprinkled with cumin, salt and paprika, and deep fried until crisp. We sprinkled the crisp beans over the top of the salad.

Mango sorbet for desert.
Very good.
---
Re: June 13, 2011 Mystery-Box review - Old Bay - 06-13-2011

Labs, I love the cutlet, and the garbanzo flour was very creative.
Cuban Girl, I love the orzo!!! Your use of marsala is really creative fusion.
What a creative bunch!!
---
Re: June 13, 2011 Mystery-Box review - labradors - 06-13-2011

Bill, that sounds really good, too. Like the idea of using the anchos. In fact, when developing my marinade, I had thought about adding some puréed serranos, but decided upon the Sriracha, instead.


---
Re: June 13, 2011 Mystery-Box review - cjs - 06-13-2011

This really was a lot of fun! I will certainly be taking bits and pieces of all of the previous dishes.

----

Diary of a Mystery Bag Dinner – Labs is our Mystery Master this dinner to be reviewed Monday, June 13, 2011.

Step 1.
All the pork that is left in the freezer is a Hormel Pork Center Cut Loin Filet (1.7 lbs.) and I have taken an oath on Gert's life that I will not buy any meat until the freezers are cleaned out, this will be the pork I'm using.

For the pork – prepped Friday, 6/10
Marinated (source: adapted from Susanna Foo's Fresh Inspiration book – Roasted Five-Spice Pork Tenderloin) overnight in:
1 tsp. coriander seeds
1/4 cup corn oil
2 garlic cloves, thinly sliced
2 jalapeno peppers, stemmed and thinly sliced
1 T. kosher salt
2 T. brandy or whiskey (used whiskey)
1 T. honey
1 tsp. five-spice powder
The pork loin fillet

Toast the coriander seeds in a small dry skillet over med. heat, tossing and stirring constantly, until they darken slightly and become fragrant. Transfer to a small bowl to cool.

Heat in the same skillet, the 2 T. oil over high heat; add the garlic and jalapeno peppers and cook, stirring often until soft, about 1 minute. Add the salt, liquor, honey and toasted coriander seeds and mix well. Remove from the heat and puree in a mini processor or blender. Transfer to a small bowl and mix in the five-spice powder.

Rub the spice mixture all over the tenderloin and marinate, covered in frig overnight.

Saturday, 6/11 – Roasted the 2 pork pieces at 425° to a temp. of 150° after browning. Flavors from the marinade are wonderful.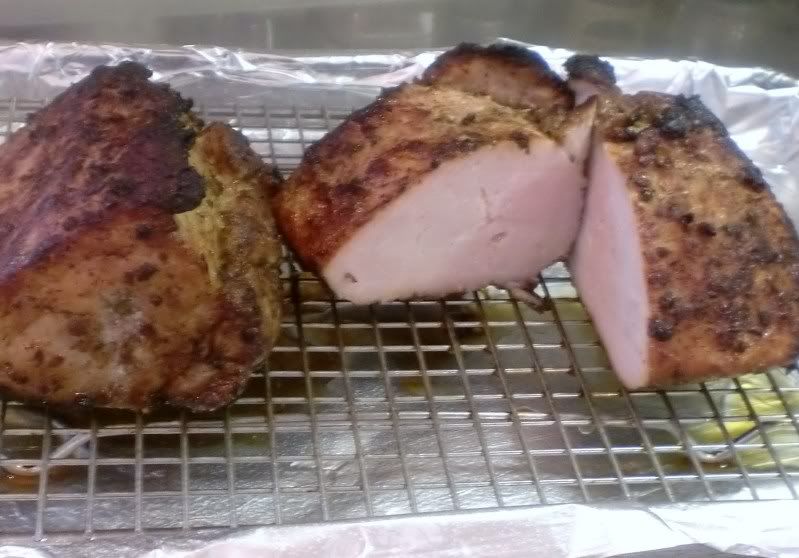 Step 2.
Tamarind Glaze – prepped Friday, 6/10
Source: adapted Primitivo Wine Bar, Colorado Springs, CO, Food & Wine magazine
1 cup tamarind paste
1 cup brown sugar
1 T. fresh ginger, minced
3 T. Mango juice

Combine the ingredients and simmer until thick. Strain thru a china cap. Yield: 1 cup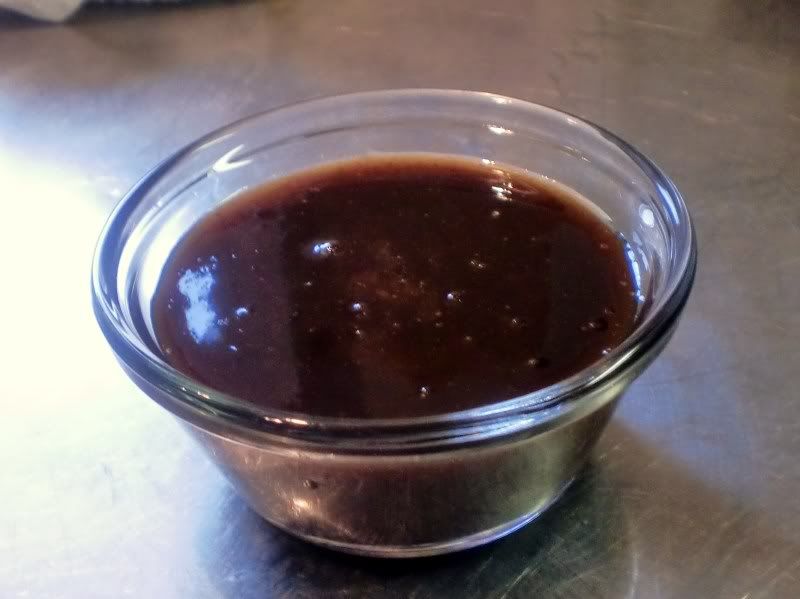 Step 3.
Cooking the dried Garbanzo beans – Prepped Friday, 6/10
Source: me
I've never cooked them in a slow cooker before, so this is an experiment. Covered 8 oz. dried beans with 2 1/2" of water and cooked on high for ~3 hours. Will check after 2 1/2 hours – cooking time will depend on the freshness of the beans and I have no idea how old mine are. Note: I will cool overnight in the cooking water and see how the water tastes – if good, will use for cooking something.

Step 4.
Mango Chutney – prepped Friday, 6/10/11
Source: adapted from a Chef's Journey book, 200 Condiments, Appetizers & Starters

2 lbs. fresh mangoes, slightly under ripe Pinch of ground cinnamon
6 cloves garlic, rough chop Pinch of ground cloves
1-inch piece of fresh ginger, rough chop 1 tsp. ground black pepper
4 to 6 fresh red chilies 1 tsp. kosher salt
1 1/2 cups white wine vinegar 1 lb. dark brown sugar

Peel the mangoes and chop into small cube and set aside. Put the garlic with the ginger, chilies and vinegar in a blender, swirl until thoroughly blended.

Pour into a heavy pan along with the mango cubes, cinnamon, cloves, pepper, salt and brown sugar and bring to a boil, stirring occasionally. Note: I added 1/4 cup of the tamarind pulp after straining for the glaze.

Reduce heat and simmer for about 30 minutes, stirring more frequently towards the end of the cooking time (the chutney can stick to the bottom of the pan). Allow to cool.

Step 5.
Chickpea Pancake – made Sat. 6/11
Source: Heart Smart Flavours of India

Will post the recipe if anyone interested. The recipe made 19 pancakes






Step 5.
Garbanzo Salad – made Sat., 6/11/11
Toss together –
Garbanzo beans
Chopped parsley
Red pepper
Snow peas
Dressing:
Balsamic vinaigrette

Step 6.
Ingredients for Pork & Chickpea Pancake:
Chickpea pancake
Shredded lettuce
Shaved pork heated with Tamarind Glaze
Mango chutney
Cilantro leaves
Drizzle of tamarind glaze

Served with:
Chickpea salad served on lettuce leaf.

All components of my dinner are complete. Next – assembling, taking pictures and enjoying







Well, the combination of flavors was excellent!! My plating in the pictures was fine, but the chickpea pancakes came apart, so we gave up on those and layered the pork over the salad and topped with goat cheese and a drizzle of tamarind glaze – this took the dish to a 9+ Couldn't find a wine (that we had open) to go with and I didn't have a gewürztraminer that I think would have gone well.

The elements of this dish that I will repeat are the tamarind glaze, 5-Spice pork, and cooking beans in a slow cooker. The absolute hit is the pork, rub and the glaze.


---
Re: June 13, 2011 Mystery-Box review - labradors - 06-13-2011

Cool! Isn't tamarind a wonderful ingredient? It's definitely something that is under appreciated in America.

I would like to see the recipe for those pancakes. Do they use the garbanzo flour or are they ground-up soaked/cooked garbanzos?


---
Re: June 13, 2011 Mystery-Box review - cjs - 06-13-2011

The pancakes used chickpea flour - and I think my problem was I don't know how "chilla" is to be eaten. Here's the description from the recipe -
"When I was young, my mother would not allow me or my sisters and brothers to eat food from the street vendors.But that didn't stop us from the occasional visit to Mama Kibibi's chilla stall. Hers were so food I had to learn her secret. Now my whole fmaily enjoys these pancakes, but I never did tell my mother who taught me the recipe."

I guess I'd better research how these are eaten. Good flavor, I'd like to use them again.

Chickpea Pancake - 'Chilla'

2 cups chickpea flour (Chana flour)
1 cup water
1 egg
1/2 tsp. each: crushed ginger, crushed garlic, red chili powder, or to taste, minced green chili, or to taste
1 tsp. chopped cilantro
2 tsp. vegetable oil

Sift flour into bowl. Combine water, egg, ginger, garlic, chili powder, minced chili and cilantro. Stir into flour until smooth. This should be like a crepe batter; thin but not watery (add more water if necessary) Note: I added at least 1/2 cup additional water to achieve the crepe batter consistency.

Heat large heavy non-stick skillet over high heat with a drop of oil. with paper towel, wipe oil over bottom. Pour in just enough batter to thinly cover bottom of pan. Lift and flip when bubbles appear on top. Chilla cooks quickly - about 1 1/2 minutes for first side, 30 seconds for reverse side. Repeat until all better is gone, separating pancakes with waxed paper. Pancakes can be reheated in a few seconds in microwave or frying pan. serve hot or cold with coconut chutney.

----
I purposely made mine 3 to 4" diameter for my dinner, but I wonder if they 'should' be larger as a crepe would be? Anyway, let me know if you play with these. the flavor was interesting, a little off-putting by themselves but very good with additiona flavor on them.


---
Re: June 13, 2011 Mystery-Box review - Trixxee - 06-13-2011

You ALL are so creative! Everything looks and sounds fantastic.


---